Premium protein for animal diets
With high protein content and an excellent amino acid profile, canola meal is proven to support high levels of production in livestock species. It's readily digested and highly palatable, making it a perfect replacement for other vegetable proteins in all livestock rations.
Learn more about canola meal
---
Unsurpassed for milk production
Dairy producers simply can't find a better protein ingredient than canola meal. Decades of research have shown that canola meal increases milk production by one litre per cow per day, compared to diets containing meal from other protein sources, such as soybean meal and cottonseed meal.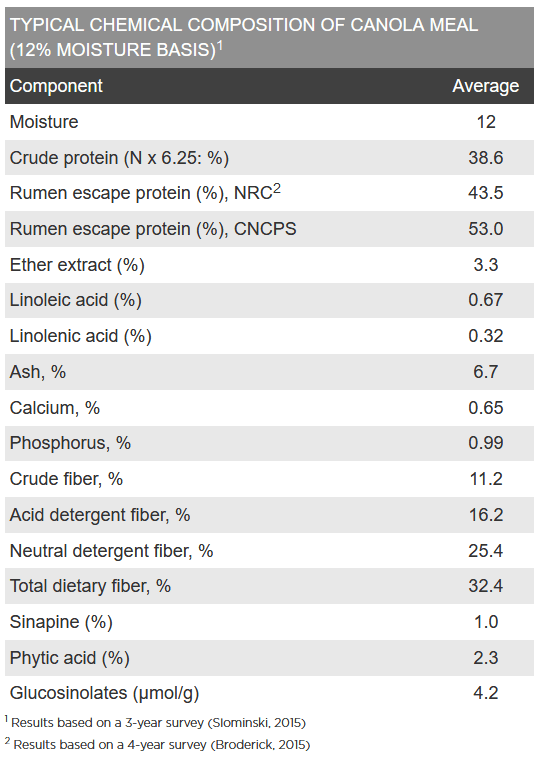 The amino acid profile makes the difference. Canola meal has more rumen undegraded protein, or bypass protein, than many other common protein sources. That means canola meal provides the right protein, in the right place, at the right time, so cows can use protein efficiently and send less protein into the manure pile.
Research is now showing further benefits. Canola meal results in milk with a higher protein content – an important advantage for cheese-making – and cows are so efficient at using protein from canola that they produce less enteric methane.
Visit canolamazing.com for dairy nutrition resources, including the Dairy Feed Calculator, downloadable Dairy Feed Guide, research abstracts, articles and conference proceedings­.
Great for pigs at all stages
Canola meal is an excellent protein source to help pigs reach their full potential, all the way from weaners to market, and especially for breeding stock. One recent study showed nursery pigs perform exceptionally well with diets containing high levels of canola meal.
Visit canolamazing.com for canola meal swine feeding guidelines, recent articles and research abstracts.
Consistent value for poultry producers
Canola meal is an economical alternative to higher-cost ingredients for poultry – particularly laying hens – where it's proven to support high levels of egg production. It's also a great fit for broiler and breeding chickens, turkeys, ducks and geese.
Visit canolamazing.com for canola meal poultry feeding guidelines, recently published articles and research abstracts.
Cost-effective choice for fisheries
For species requiring high amounts of protein, canola meal can displace fish meal at a fraction of the cost. Canola meal's amino acid profile is closer to fishmeal than any other common vegetable protein. It's routinely fed to salmon and trout, and it's commonly used in diets for catfish, carp, tilapia, bass, perch, seabream, turbot and shrimp. Trials in Vietnam and China have demonstrated excellent performance when high amounts of canola meal were included in the diets of Pangasius catfish, snakehead fish and tilapia.
Visit canolamazing.com for canola meal fish feeding guidelines and recently published articles.
Resources
Canolamazing.com has many resources for producers and nutritionists, including the canola meal nutrient profile, feeding guides, research directory and library. Visit the site often to learn about canola meal news and free webinars.