Keeping markets open for Canadian canola
Market access is working behind the scenes to make sure Canadian farmers can do what they do best: grow the world's best canola!
Market access allows the Canadian canola industry to earn the most value for our exports, growing an industry that's already responsible for hundreds of thousands of jobs and billions in revenue. To ensure the success story of Canadian canola continues, the Canola Council works to resolve market access issues in key markets around the world including:
United States
Our top market for canola oil and meal
Seed 554,000 tonnes
Meal 3.3 million tonnes
Annual export value
$3.6 billion CAD
China
Major market for canola seed
Seed 3.6 million tonnes
Oil 906,000 tonnes
Meal 1.2 million tonnes
Annual export value
$3.4 billion CAD
European Union
World leader in biodiesel
Seed 783,000 tonnes
Oil 5,000 tonnes
Annual export value
$404 million CAD
*Values based on 2017-19 averages
Learn more about our top markets.
Priority areas
There are four key concerns that limit market access for our canola: tariffs, biotechnology, sustainability, and sanitary and phytosanitary.
Biotechnology and innovation
Biotechnology is regulated differently throughout the world. Slow or non-science-based approvals of new biotech traits limit Canadian innovation and increase export risk.
Biotechnology progress:
China approved two new biotech traits, enabling innovation for Canadian growers.
Advanced international low-level presence policies for approved biotech crops, reducing export risk.
Commitments to prevent biotechnology related measures from being trade barriers included in the Canada-EU trade agreement and the Comprehensive and Progressive Trans-Pacific Partnership.
Tariffs
Tariffs limit market access for Canadian canola by taxing our exports and making them more expensive for importers.
Tariffs progress:
Comprehensive and Progressive Agreement for Trans-Pacific Partnership (CPTPP): Transition to tariff-free environment for canola and canola products in the 11 CPTPP countries.
Canada-United States-Mexico Agreement: Preserves tariff-free access for canola and expands access for products like margarine in the U.S. and Mexico.
The Canada-Korea Free Trade Agreement: Tariff-free access for Canadian canola to South Korea.
Canada-Europe Comprehensive Economic and Trade Agreement: Eliminates oil tariffs for European markets.
Sanitary and phytosanitary (SPS)
SPS measures around concerns such as plant diseases and pesticide residues are in place to protect plant, animal and human health. However, when not based on science they unjustly limit market access.
Sanitary and phytosanitary progress:
Encouraging on-farm practices that align with export requirements through the Keep it Clean program.
Implementing the memorandum of understanding with China on managing the risk of blackleg, including helping the industry make the best use of blackleg-resistant genes and helping growers reduce the incidence of blackleg in their fields.
Sustainability
Some markets have stringent sustainability requirements. Entire markets can be closed off when the environmentally friendly practices of Canadian farmers are not recognized.
Sustainability progress:
Secured sustainability certification for canola to access the EU biodiesel market.
Achieved eligibility for canola to be used as a biodiesel feedstock under the RFS2 in the U.S.
Industry vision and organization
Our industry's strategic plan targets 26 million metric tonnes of sustained market demand and production by 2025. By continuing to strengthen our access to global markets we can earn the most value for our canola exports and capitalize on the world's growing appetite for healthier oils and protein. We'll achieve this by continuing to work closely with government to establish stable and open trade relationships, and ensuring that the quality and production practices of our canola meets the requirements of our export markets.
Our market access approach relies on a clear organization of responsibilities, cooperation and a common commitment from both industry and government: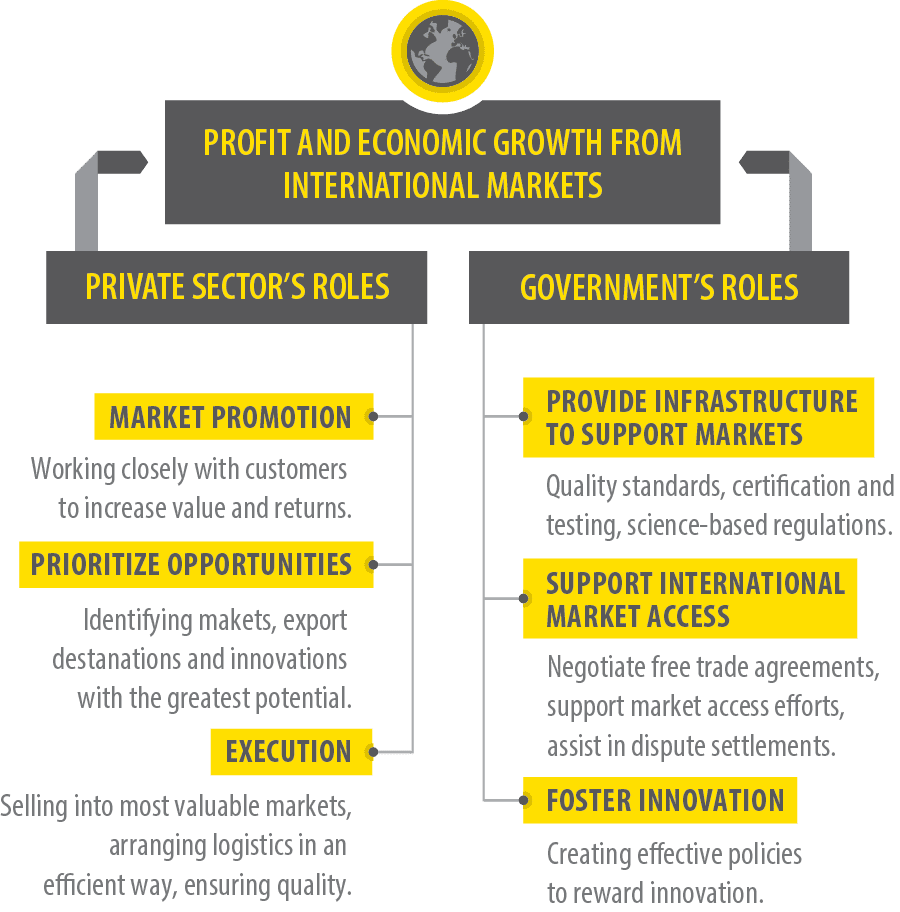 Private sector's roles
Market promotion: Working closely with customers to increase value and returns
Prioritizing opportunities: Identifying markets, export destinations and innovations with the greatest potential
Execution: Selling into most valuable markets, arranging logistics in an efficient way, ensuring quality
Government's roles
Provide infrastructure to support markets: Quality standards, certification and testing, science-based regulations
Support international market access: Negotiate free trade agreements, support market access efforts, assist in dispute settlements
Foster innovation: Create effective policies to reward innovation
---
To learn more about the canola industry's market access strategy for the future, including progress, case studies and a more in-depth look at the four key priorities read:
Market Access for the Future Summary (PDF)
Market Access for the Future Strategy (PDF)