Canola: Canada's ideal resource for clean, renewable fuels
Canadian canola is used in biofuel production around the world because it's a low-carbon, sustainable and renewable resource – and it's in abundant supply.
When blended into diesel fuel, canola-based biofuel can be used by passenger vehicles and trucks, as well as off-road equipment used in mining, forestry, construction, agriculture and marine industries. 1
Most importantly, biofuels are ready to use right now. That's a clear advantage over other technologies requiring gradual adoption.
When canola-based biofuels play a bigger role in Canada's fuel supply, we will achieve real and immediate benefits for the environment, the economy and the whole canola value chain.
Learn more about:
How canola helps the environment
Plants take in carbon dioxide and turn it into oil and protein that we can use for food and fuel. The sustainable practices used by Canadian farmers also allow the canola plant to sequester carbon in the soil, preventing it from becoming a greenhouse gas (GHG). This means that compared to other fuels, canola-based biofuels significantly lower GHG emissions. In fact, canola-based biofuel reduces lifecycle GHG emissions by up to 90 per cent compared to traditional diesel. 2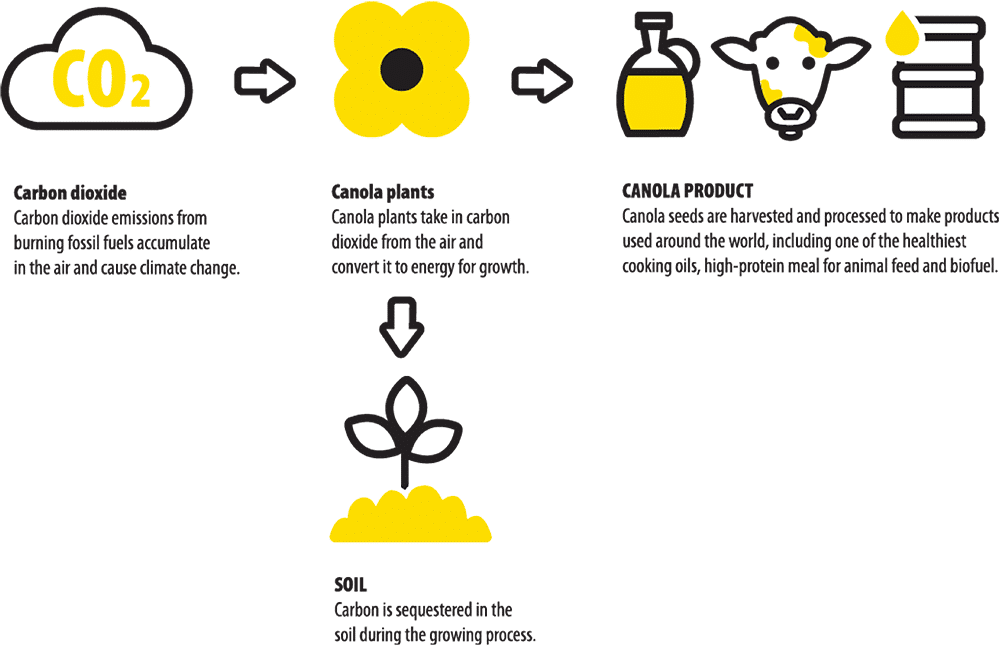 Learn more about how canola reduces GHGs in the atmosphere.
---
Making a difference in Canada
How more canola biofuels can reduce Canada's GHG emissions
Canada faces an emissions challenge.
The federal government has announced the development of a Clean Fuel Standard (CFS) with a clear objective to reduce GHG emissions by more than 20 megatonnes. This will help Canada meet its commitment to reduce total emissions by 30 per cent by 2030 from 2005 levels.
Renewable fuel standards that reward low-carbon biofuels are integral to helping Canada achieve its emissions-reduction targets and transition to a low-carbon economy. Today, diesel fuel in Canada must contain 2 per cent biofuel, and even at this modest level, canola-based biofuels help reduce annual GHG emissions by 4.4 megatonnes. 3
Incorporating the advantages of canola-based biofuels into the CFS will lead to further GHG reductions. In fact, annual emissions could be reduced by 3.5 mega-tonnes. 4
In Canada, approximately 24 per cent of total GHG emissions come from the transportation sector. 5 Canola-based biofuel is a cleaner-burning alternative to diesel fuel that can be blended for use in on-road vehicles, from municipal fleets to long-haul trucks, as well as off-road equipment used for mining, forestry, construction, agriculture and marine industries. 6
---
Benefits for all Canadians
Canola-based biofuel doesn't just help Canada in its fight against climate change—it helps the Canadian economy by creating jobs and opportunity. Learn more about canola's economic impact and contributions to social and economic sustainability.
Canola-based biofuels are made from crops grown by 43,000 Canadian farmers.
More canola-based biofuel use means more jobs, investment and expertise stay in Canada.
Canadian canola contributes $29.9 billion to our economy, supporting more than 207,000 jobs. 7
---
Resources
Canola Biodiesel Lifecycle Analysis Report – This analysis demonstrates that canola biodiesel reduces lifecycle greenhouse gases by 90 per cent compared fossil diesel. Canadian canola production methods and data were used to determine the energy balance and GHG emissions.
Footnotes