Grown on Canadian farms, consumed around the world
The crop developed in Canada 50 years ago is now at the centre of a thriving industry with international reach. Canada's canola value chain is made up of growers, seed developers, processors and exporters. Together, they generate $29.9 billion in economic activity in Canada each year.
Learn more about
---
Canola production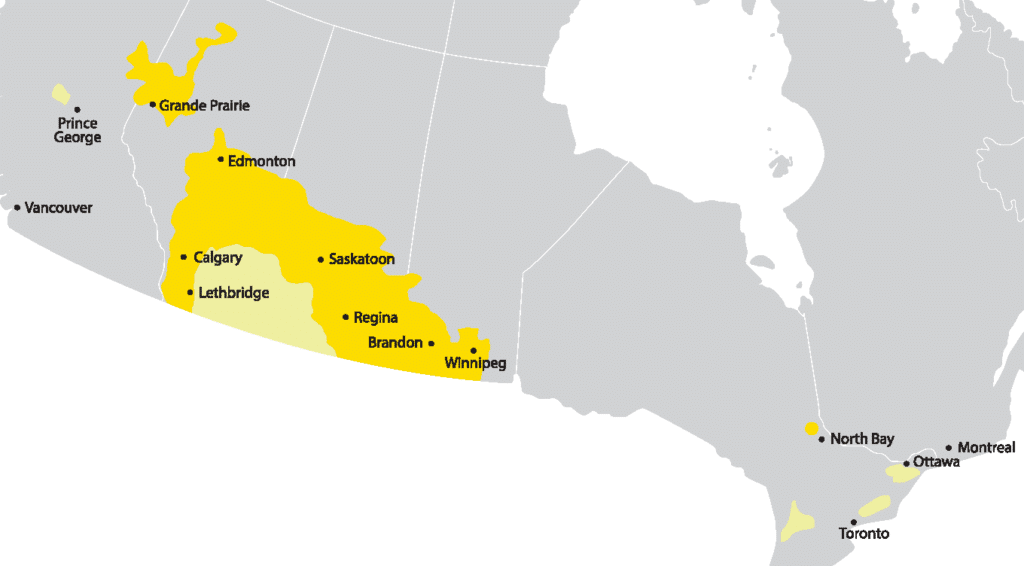 Growing canola
Canola is grown by 43,000 Canadian farmers who produce about 20 million tonnes of canola annually. Canola is now one of the most widely grown crops in Canada, generating about one-quarter of all farm crop receipts.
Every year, approximately 20 million acres of Canadian farmland turn brilliant yellow as canola comes into bloom. The crop is primarily grown in the western provinces of Alberta, Saskatchewan and Manitoba. Some canola is also grown in British Columbia, Ontario and Quebec.
Although canola acreage has remained fairly steady over the past decade, total production has increased because of increases in average yield. The industry's goal is to increase average yields to 52 bushels/acre to meet global market demand of 26 million tonnes by 2025. Read more about the industry's Keep it Coming 2025 strategy.
Seed development
Life science companies drive the development of new canola traits and varieties that help farmers increase yields and manage agronomic challenges. The industry also invests in new canola varieties that add value by providing higher oil content, more protein and special oil profiles.
---
Canola processing
Canada has more experience processing canola than anywhere else in the world.
The 14 crushing and refining plants across Canada have the capacity to crush about 11 million tonnes of canola seed each year. As the Canadian processing sector grows, these companies are bringing new jobs and opportunity to Canada's rural economy.
Learn more about the expansion in processing capacity and how canola seed is processed into oil and meal.
---
Canola marketing, handling and export
While other countries now grow canola, Canada remains the world leader in canola exports. About 90% of the canola grown in Canada is consumed in export markets. This strong export focus makes Canada's exporters an essential link in the canola value chain.
More than 50 different nations import canola seed, oil and meal from Canada. The biggest buyer of canola oil and meal is the United States. For raw seed, the most important destinations are China, Japan and Mexico.
Learn more about canola's top markets.
---
End uses
Cooking oil
Most canola oil is refined for use as a heart-healthy, versatile cooking oil, widely used in home kitchens, restaurants and food processing. Canola oil is the number one cooking oil in Canada, and the second most popular choice in the United States. Learn more about canola oil.
Processed foods
Canola oil is one of the most popular ingredients for commercially produced margarines, shortenings, salad dressings, baked goods and more. As the food industry moves away from trans fats, canola oil is the market-ready alternative.
Biofuel
Canadian canola is used in biofuel production around the world because it's a low-carbon, sustainable and renewal resource – and it's in abundant supply. Learn more about canola-based biofuels.
Animal feed
Canola meal is a source of efficient, palatable protein for livestock, poultry and fish. In dairy herds, feed containing canola meal can increase milk production by 1 litre per cow per day. Learn more about canola meal.
Protein for human consumption
Canadian companies are now exploring opportunities to use canola meal as a plant-based protein source for human diets. Visit proteinindustriescanada.ca to learn more.
Industrial uses
Like all vegetable oils, canola oil is used for the production of inks, plastics, cosmetics, paints, adhesives and sealants.