A leader in value-added agriculture in Canada
Global demand for canola oil and meal continues to grow, spurring investments in new processing capacity here in Canada. Since 2021, five major announcements will add 6.7 MMT of processing capacity by 2025 – representing a 60% increase from our current capacity of 11.1 MMT. These capital investments are estimated at more than $2 billion, creating thousands of high paying jobs. Once a processing plant is built, it provides a steady source of employment for the community along with a steady source of demand for canola grown by surrounding farmers.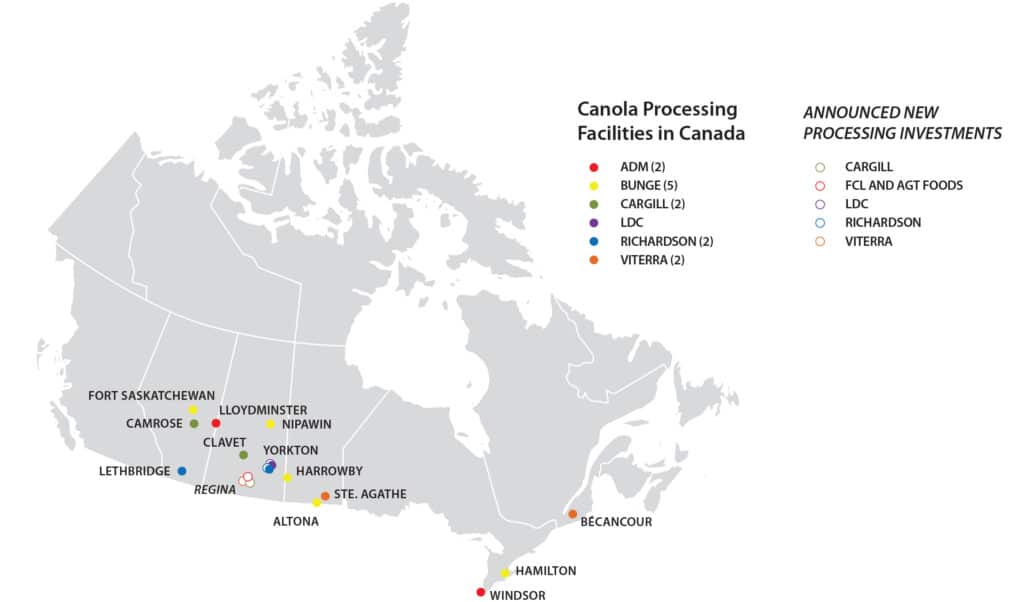 Benefits of more value-added processing
More competition for canola seed raises the overall value of canola
Increased delivery options and flexibility for farmers
Market diversification – including
value-added marketing opportunities for oil and meal
Supports value-added production and job creation in Canada
Encouraging investment and innovation in canola varieties and agronomic practices
Supports Canadian biofuel investments and greenhouse gas emission reductions
Keeping pace with the industry's strategic plan
The new processing investments are aligned with the canola industry's Keep it Coming 2025 strategic plan, that targets a growth in canola production and domestic processing volumes. Assuming processing capacity utilization of 90%, approximately 16 MMT of canola will be processed in Canada by 2025. This exceeds the industry's target of 14 MMT and keeps pace with the value chain goal to produce 26 MMT of canola by 2025. By 2025, it's estimated that 62% of canola grown in Canada will be processed in Canada, slightly higher than the long-term average of approximately half of the canola crop being processed domestically.
Canola production and crush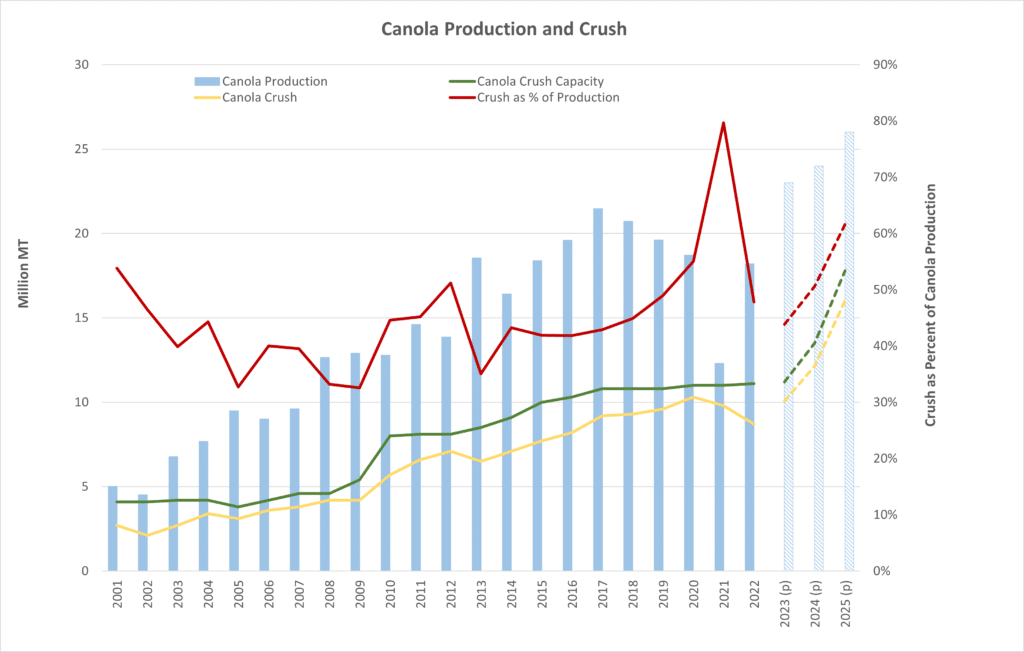 The canola industry's strategic plan for growth builds on canola's alignment with key global trends, including continued growth for healthy vegetable oil, high quality meal and more sustainable products like canola biofuel. In the last 20 years, processing capacity has nearly tripled in Canada responding to these growing demands. According to an analysis by LMC International canola processing alone currently delivers an economic impact of nearly $6 billion annually, and contributes approximately 7,670 jobs.
Learn more about current and historic data for Canadian canola processing, as well as the method for processing canola seed.