2019 annual report – highlights
To read the full report, download Partnership with Purpose.
What does it take to move forward in difficult times?
It takes a strong commitment to partnership and a clear sense of purpose. It takes the ideas and resources of the entire value chain, focused on the greatest needs and opportunities.
Our partnership
The Canola Council of Canada involves all parts of the value chain, including growers, processors, exporters, life science companies and other partners. We all sit down at the same table to discuss and advance our collective success.
Our purpose
We are the marshalling point to confront the industry's shared challenges, whether they are in the marketplace, in the field or in the halls of government. Working together, we speak with one strong voice and combine our individual strengths to make the greatest collective impact.
Our work is guided by Keep it Coming 2025, the strategic plan for the industry. We focus on three strategic priorities:
Taking action to bring back predictable trade
The sudden halt of seed exports to one of our biggest markets necessitated action and teamwork to resolve issues and diversify our customer base.
Leading on pressing agronomy issues
In one of the toughest years ever, growers received timely, researched-based advice to maintain their competitive edge and keep canola supply strong.
Stronger support for science-based decisions
Industry-wide cooperation produced real-world data and a compelling rationale in support of neonicotinoid seed treatments.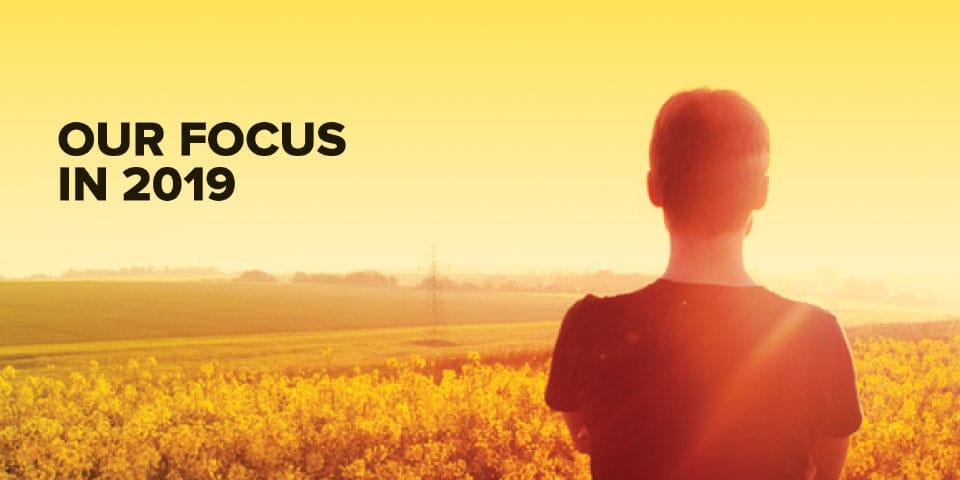 In a year of many challenges, three pressing issues dominated:
Sustainable, reliable supply
Meeting growing global demand for Canadian canola while increasing the economic and environmental benefits of every acre
Differentiated value
Demonstrating the quality characteristics of canola seed, oil and meal
Stable and open trade
Creating a trade environment that consistently allows the industry to attain maximum value for canola
The year at a glance
| | 2019 Results | 2011 & 2012 Average (the initial strategic plan benchmarks) | 2025 Targets |
| --- | --- | --- | --- |
| Exported Seed | 8.2 MMT | 8.1 MMT | 12 MMT |
| Domestic Processing | 9.6 MMT | 6.9 MMT | 14 MMT |
| Acres (Seeded Area) | 21 million | 20.2 million | 22 million |
| Yield | 40 bu/acre | 31.2 bu/acre | 52 bu/acre |
| Production | 18.6 MMT | 14.2 MMT | 26 MMT |
| Oil Content (Average of No. 1 Grade) | 44.60% | 44.40% | Maintain global competitiveness in oil content (10 yr average = 44.4%) |
| Saturated Fat Content | 6.60% | 6.70% | Global leadership position in oil saturated fat content |
| Meal Crude Protein Content (Oil-free, 12% moisture basis) | 38.30% | 39.7%* | Increase protein availability by target species (10 yr average = 37.9%) |
MMT = Million Metric Tonnes
*8.5% moisture basis
Download previous reports