2021 annual report – highlights
To read the full report, download Change. Challenge. Opportunity.
2021 was a year of dynamic changes and challenges. Many were difficult and disruptive. Others signaled new opportunities to grow in the year ahead.
The challenging growing season of 2021 reminded us why collaboration is the canola sector's greatest strength. During one of the most difficult years on record, industry partners joined forces to provide timely resources and advice.
We also focused on new solutions and opportunities, ensuring that Canada remains the world leader in canola production and trade long into the future.
Partnership across the value chain
The Canola Council of Canada involves all parts of the value chain, including growers, processors, exporters, life science companies and other partners. We all sit down at the same table to discuss and advance our collective success.
Our strategic plan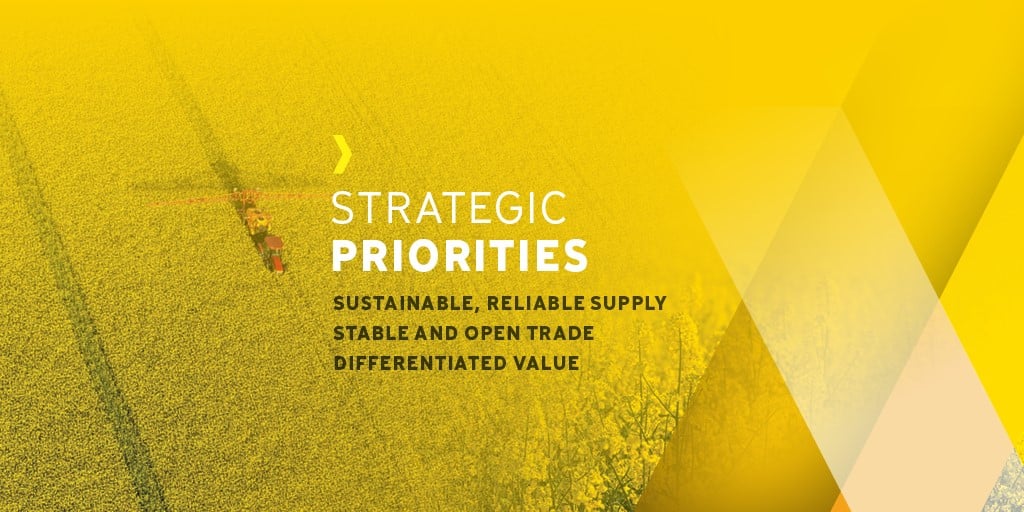 Our work is guided by Keep it Coming 2025, the strategic plan for the canola industry. Three strategic priorities guide our work:
Sustainable, reliable supply
Meeting growing global demand for Canadian canola while increasing the economic and environmental benefits of every acre
Differentiated value
Demonstrating the quality characteristics of canola seed, oil and meal
Stable and open trade
Creating a trade environment that consistently allows the industry to attain maximum value for canola
The year at a glance
| wdt_ID | Targets | 2021 Results | 2025 Target | 3-YR Average (2018-2020) |
| --- | --- | --- | --- | --- |
| 1 | Exported Seed | 8.4 MMT | 12 MMT | 10.1 MMT |
| 2 | Domestic Processing | 9.9 MMT | 14 MMT | 9.7 MMT |
| 3 | Acres (Seeded Area) | 22.5 million | 22 million | 21.6 million |
| 4 | Yield | 25 bu/acre | 52 bu/acre | 40.7 bu/acre |
| 5 | Production | 12.6 MMT | 26 MMT | 19.7 MMT |
| 6 | Oil Content (Average of No. 1 Grade) | 41.3% | Maintain global competitiveness in oil content (10 yr average = 44.4%) | 44.2% |
| 7 | Saturated Fat Content | 6.6% | Global leadership position in oil saturated fat content | 6.7% |
| 8 | Meal Crude Protein Content (Oil-free, 12% moisture basis) | 42% | Increase protein availability by target species (10 yr average = 38.1%) | 38.7% |
MMT = Million Metric Tonnes
Download previous reports