2022 annual report – highlights
To read the full report, download Moving Forward – From Adversity to Opportunity
In 2022, Canadian canola was able to move beyond the tough challenges of recent years and toward new possibilities.
Rebound in yields
Big expansions planned in domestic processing
New pathways opening to growing biofuels markets
Resolution of some key export issues
Focus on new markets
Renewed commitment to innovation
Partnership across the value chain
The Canola Council of Canada involves all parts of the value chain, including canola growers, processors, life science companies and exporters. We all sit down at the same table to discuss and advance our collective success.
Our strategic priorities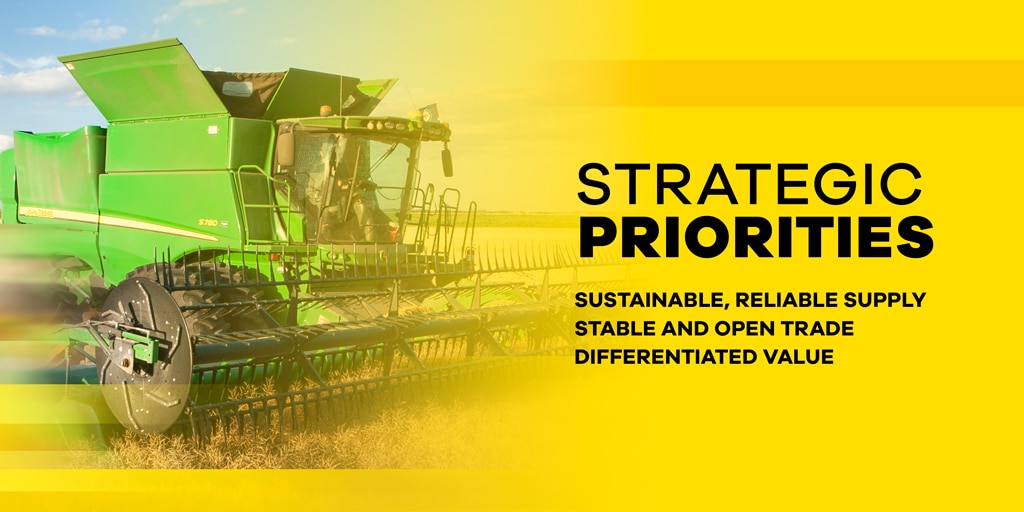 We move forward guided by the three strategic priorities of the industry's Keep it Coming 2025 strategic plan:
Sustainable, reliable supply
Meeting growing global demand for Canadian canola while increasing the economic and environmental benefits of every acre
Differentiated value
Demonstrating the quality characteristics of canola seed, oil and meal
Stable and open trade
Creating a trade environment that consistently allows the industry to attain maximum value for canola
The year at a glance
| wdt_ID | Targets | 2022 Results | 2025 Target | 3-YR Average (2019-2021) |
| --- | --- | --- | --- | --- |
| 1 | Exported Seed | 5.7 MMT | 12 MMT | 9.5 MMT |
| 2 | Domestic Processing | 8.8 MMT | 14 MMT | 9.9 MMT |
| 3 | Acres (Seeded Area) | 21.4 million | 22 million | 21.4 million |
| 4 | Yield | 37.7 bu/acre | 52 bu/acre | 37 bu/acre |
| 5 | Production | 18.2 MMT | 26 MMT | 17.7 MMT |
| 6 | Oil Content (Average of No. 1 Grade) | 42.1% | Maintain global competitiveness in oil content (10 yr average = 44.0%) | 43.3% |
| 7 | Saturated Fat Content | 6.8% | Global leadership position in oil saturated fat content | 6.7% |
| 8 | Meal Crude Protein Content (Oil-free, 12% moisture basis) | 39.8% | Increase protein availability by target species (10 yr average = 38.6%) | 39.6% |
MMT = Million Metric Tonnes
All statistics are for 2022 calendar year
Sources: Statistics Canada, Canadian Grain Commission
Download previous reports