2020 annual report – highlights
To read the full report, download Resilient. Responsive. Ready.
Watch Jim Everson's presentation from the March 19, 2021 CCC AGM.
RESILIENT in a disruptive year.
RESPONSIVE to unforeseen challenges.
READY to drive Canada's post-pandemic recovery.
In this highly unusual year, partnership played a big role in keeping the canola industry strong. The wide-ranging challenges included COVID-19, spring harvesting, a heatwave in July and the ongoing market access blockage with China. Working together, we tapped into the remarkable resilience that exists all through the canola value chain.
As we navigated the twists and turns, we never lost sight of our long-term destination and what it would take to get there. We managed the difficulties of 2020 and positioned canola for greater success as we work together to grow our future.
Partnership across the value chain
The Canola Council of Canada involves all parts of the value chain, including growers, processors, exporters, life science companies and other partners. We all sit down at the same table to discuss and advance our collective success.
Our strategic plan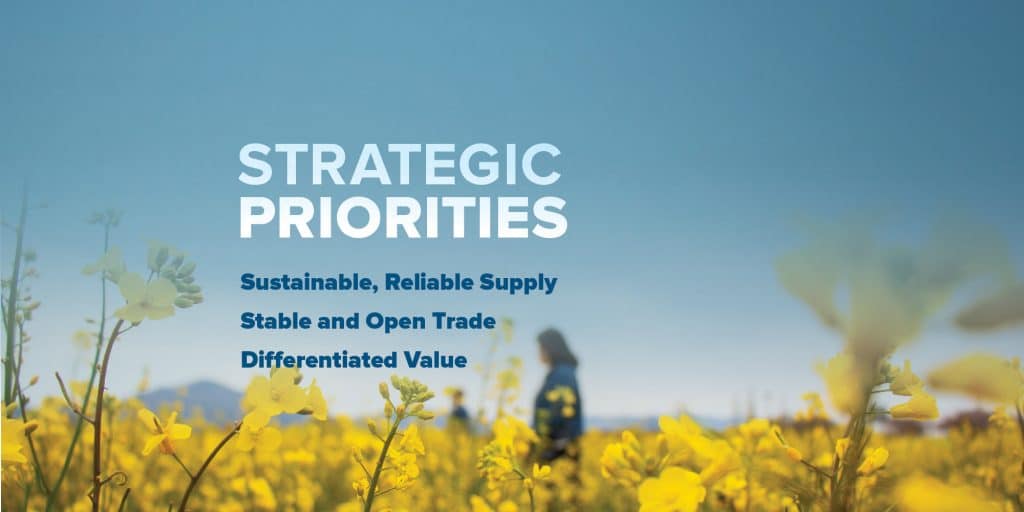 Our work is guided by Keep it Coming 2025, the strategic plan for the canola industry. Three strategic priorities guide our work:
Sustainable, reliable supply
Meeting growing global demand for Canadian canola while increasing the economic and environmental benefits of every acre
Differentiated value
Demonstrating the quality characteristics of canola seed, oil and meal
Stable and open trade
Creating a trade environment that consistently allows the industry to attain maximum value for canola
The year at a glance
| wdt_ID | Targets | 2020 Results | 2011 & 2012 Average (the initial strategic plan benchmarks) | 2025 |
| --- | --- | --- | --- | --- |
| 1 | Exported Seed | 11.8 MMT | 8.1 MMT | 12 MMT |
| 2 | Domestic Processing | 10.3 MMT | 6.9 MMT | 14 MMT |
| 3 | Acres (Seeded Area) | 20.8 million | 20.2 million | 22 million |
| 4 | Yield | 40.1/bu/acre | 31.2 bu/acre | 52 bu/acre |
| 5 | Production | 18.7 MMT | 14.2 MMT | 26 MMT |
| 6 | Oil Content (Average of No. 1 Grade) | 44.1% | 44.4% | Maintain global competitiveness in oil content (10 yr average = 44.4%) |
| 7 | Saturated Fat Content | 6.8% | 6.7% | Global leadership position in oil saturated fat content |
| 8 | Meal Crude Protein Content (Oil-free, 12% moisture basis) | 38.6% | 39.7% | Increase protein availability by target species (10 yr average = 38.0%) |
MMT = Million Metric Tonnes
*8.5% moisture basis
Jim Everson's presentation from the March 18, 2021 CCC AGM
Download previous reports