Dr Kenneth Kalscheur and Jordan Kuehnl present on canola Meal in Dairy Cow Rations
As a continuation of the AMTS Nutritionist webinars in 2022, the Canolamazing webinar with Dr Ken Kalscheur and Jordan Kuehnl focus on using canola in dairy cow rations and the effects on performance and methane emissions. Dr Kenneth Kalscheur has been involved in canola meal and soybean meal research in his position as a research scientist with the US Dairy Forage Research Center. His research includes the utilization of forages and agro-industry coproducts in dairy cattle diets to improve milk production and nutrient utilization by dairy cattle and the environmental impact of animal management and feeding practices in dairy production systems. During the past decade, he has extensively researched how canola meal can be formulated into lactating dairy cow diets. Jordan Kuehnl is working with Dr Kalscheur in his position as a graduate student at the University of Wisconsin.

Dr. Kalscheur received his B.S. in Dairy Science from the University of Wisconsin-Madison, and his M.S. and Ph.D. degrees in Animal Science from the University of Maryland. From 2001 to 2014, Kenneth F. Kalscheur was a professor of Dairy Science at South Dakota State University.
Watch the full webinar:
The Canola Council of Canada Canola Meal Webinar Series
In conjunction with AMTS' "The Nutritionist" webinar series, the Canola Council of Canada offered a series of three webinars demonstrating the use and versatility of canola meal as a protein source for lactating dairy cows.
The inaugural presentation "An Interview with Daniel Scothorn" provided in depth views on a variety of subjects related to Mr. Scothorn's philosophical approach to consulting, consulting goals and formulation techniques. and balancing diets for amino acids. Daniel Scothorn, Scothorn Nutrition, is an internationally recognized dairy on-farm consultant and nutritional mentor with a practical approach to nutritional management.
The second presentation" "Comparing Canola Meal to Soybean Meal" was presented by Dr. Antonio Faciola, University of Florida. Dr. Faciola will review his extensive recent research findings comparing canola meal with soybean meal and put forth suggestions for formulating diets with canola meal.
The final webinar showcased Dr. Kenneth Kalscheur of the Dairy Forage Research Center in Madison WI. Dr Kalscheur reviewed his early lactation protein feeding studies and discussed amino acid profiles in his presentation "Examining the Role Of Canola Meal in the Diets of early lactation cows" .
More About Our Speakers
Dr. Chaouki Benchaar
Dr. Benchaar is a research scientist at the Sherbrooke Research and Development Centre (Quebec) of Agriculture and Agri-Food Canada (AAFC). An internationally recognized researcher, he received his Ph.D. from Institut National Polytechnique of Toulouse in France. Since joining AAFC in 2000, Dr. Benchaar has made numerous notable contributions to the dairy and the livestock feed industry.
His research efforts focus on three key areas of importance to the dairy feeding industry.
Mitigation of methane emissions from enteric fermentation and manure;
Optimization of nitrogen utilization in dairy cows to improve nitrogen efficiency and reduce its excretion; and
Use of plant components and feed ingredients as rumen fermentation modifiers in dairy cow nutrition
Dr. Benchaar will be sharing research findings completed through the Canola AgriScience Cluster, with funding provided through Agriculture and Agri-Food Canada's Canadian Agricultural Partnership, the Canola Council of Canada, Alberta Canola, SaskCanola and the Manitoba Canola Growers.
Mr. Daniel Scothorn
Mr. Daniel Scothorn completed his degrees in animal science at Dalhousie University and The University of Saskatchewan. He further gained extensive dairy feed management experience while working for three Canadian feed companies before starting his consulting practice, Scothorn Nutrition in 2007. In a relatively short period of time, Mr. Scothorn became internationally known for his knowledge in dairy management and diet formulation. Some of the countries where Daniel consults include Canada, UAE, Saudi Arabia, Jordan, Egypt, Indonesia, Vietnam, and Kenya.
Mr. Scothorn is known in these countries and elsewhere for his practical approach to problem solving which he shares freely on LinkedIn. He has willingly shared his advice with respect to formulating practical diets that provide results, and these often contain canola meal.
English (available in 2 parts)
Mandarin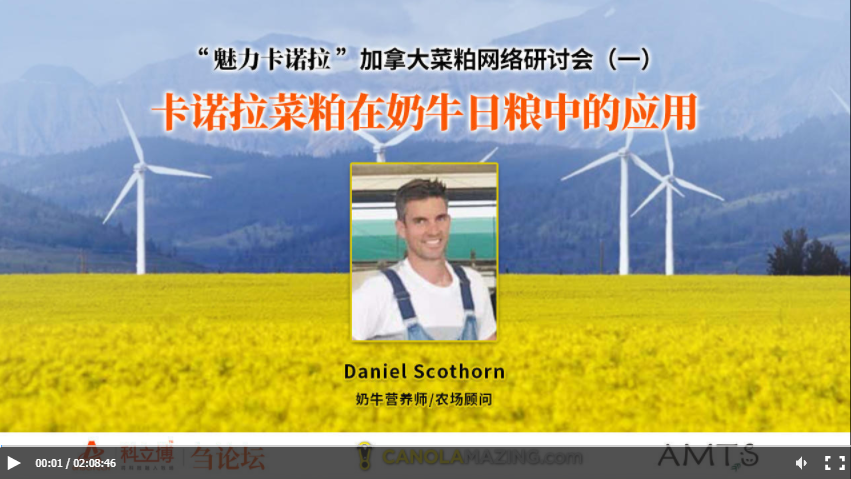 Dr. Antonio Faciola
Dr. Antonio Faciola is an assistant professor at the University of Florida. He Received his BS and Ms degrees from the Federal University of Viçosa, Brazil. He Then earned his Ph.D. from the University of Wisconsin-Madison. He completed two post-doctoral appointments at Cornell University and The Dairy Forage Research Center before becoming an assistant professor at the University of Nevada. He has conducted
The overarching goal of his program is to improve the efficiency of nutrient utilization in dairy cows to enhance production and minimize environmental impact. He has been recognized with many awards including the 2018 Lallemand Forward Award for Scientific Excellence. Dr. Faciola has been involved in Canola meal research studies during his tenure at the US Dairy Forage Research Center, as well as the University of Nevada and University of Florida.
Dr. Kenneth Kalscheur
Dr. Kalscheur received a BS degree from University of Wisconsin, and his MS and Ph.D. Degrees from University of Maryland. He then joined the staff at South Dakota State University, where he reached the rank of full professor. There his research centered on protein digestion and the environmental impact of animal management.
Returning to his home state, Dr. Kalscheur is currently employed by the U.S. Dairy Forage Research Center. His research efforts involve improving forage digestion as well as nutrient utilization by high producing cows. Dr. Kalscheur has maintained his focus on nutrient management. He is a frequent and welcomed speaker at conferences both nationally and internationally. He has been instrumental in contributing to the understanding of canola meal in diets for dairy cows, having conducted research while at South Dakota State and now at the U. S. Dairy Forage Research Center.