Canola Meal in Aquaculture Diets
Canola meal has become an important ingredient in aquaculture diets around the world. As the supply of fish meal dwindles, options are opening up for vegetable proteins to be used in its place. And canola meal has an amino acid profile that is closer to fishmeal than any other common vegetable protein, making it a great alternative. A large number of academic studies have been conducted that clearly support the use of this meal in aquaculture. Some examples:
Excellent amino acid profile, relative to the needs of marine species
Excellent protein digestibility
High levels of inclusion are possible, particularly for omnivorous finfish species
High quality oil, which can be substituted for marine oil
This page is divided into 6 sections:
Canola Meal Palatability and Inclusion Level
Canola meal is now a palatable protein ingredient for most aqua diets. In some older studies palatability was sometimes an issue due to the bitterness imparted by sinapine and glucosinolates. The levels of these compounds in Canadian canola meal are now very low, and much less likely to have a negative effect. Rather than palatability, nutrient requirements are more likely to limit canola meal utilization in aquaculture diets. Carnivorous fish have very high protein requirements, and a low tolerance for carbohydrates. Omnivorous species on the other hand have a greater tolerance for carbohydrate, and often have lower dietary protein needs.
Many experiments have been conducted to investigate canola meal in diets for fish. Tables 1 and 2 list the average levels of inclusion of canola meal for carnivorous and omnivorous fish. The levels listed have been shown to provide growth rates that are equal to or better than those found with the control rations.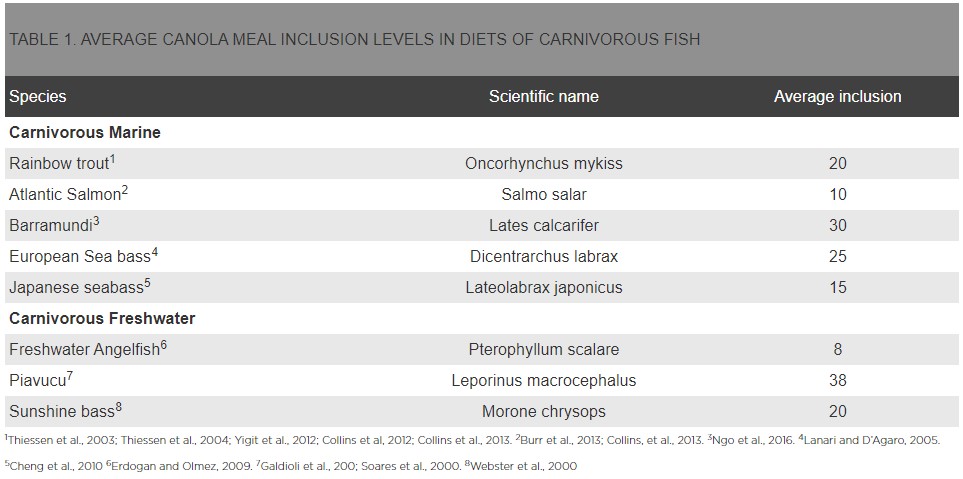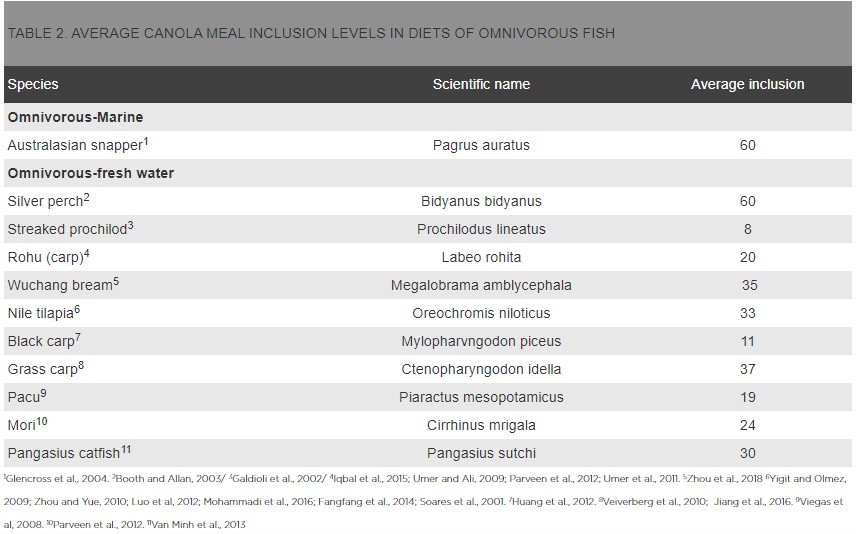 Diet Formulation
The amino acid balance of canola protein is the best of the commercial vegetable protein sources currently available. The essential amino acid index value for canola meal is superior to that of soybean meal, and on par with fish meal (Table 3). Furthermore, the amino acid profile of canola protein is comparable to that of minced beef (Drew, 2004). With the use of protein efficiency ratio (PER; or weight gain per gram of protein fed) as a measure, canola protein has a PER of 3.29 compared to 1.60 for soybean meal and 3.13 for casein (Drew, 2009). With the high cost of fish meal, canola meal is a viable alternative for partial replacement.

Canola meal may be converted into canola protein concentrate (CPC). CPC contains approximately the same crude protein concentration as fish meal, with a better amino acid profile than corn gluten meal and soybean meal. The crude protein digestibility was reported to be up to 97% in rainbow trout.
Canola oil and rapeseed oil are the most widely used vegetable oils in diets for salmon and trout and are widely used in other farmed species. Canola oil is highly desired over other vegetable oils due to its low levels of linoleic acid (omega 6), helping to maintain an omega 3 to omega 6 ratio that is naturally found in fish. In one study (Turchini et al., 2013) canola oil replaced up to 90% of the fish oil in diets for rainbow trout, with no loss in performance, and minimal change to the total omega 3 to omega 6 ratio in fillets.
Similarly, Karayücel, and Dernekbaşi (2010) found no differences in performance when 100% of the supplemental lipid was provided by canola oil in rainbow trout.
Canola meal contains 25.5% neutral detergent fibre on an as-fed basis, and is largely undigested by aquaculture species, but may be useful in providing bulk in if dietary levels are not too high. Canola meal contains approximate half as much soluble fibre as soybean meal (Mejicanos et al., 2016).
Canola Meal for Carnivorous Finfish
Canola meal is a now common feed ingredient in salmon, trout and sea bass diets and has been recognized for quite some time as a superior protein source (Table 4). Unless canola protein concentrate is used, inclusion levels are hampered due to the very high protein requirements for most farmed species. Collins et al. (2013) completed a meta-analysis of various vegetable protein ingredients fed to salmonids to determine impact of inclusion rate. This analysis, which combines results from many studies showed that dietary inclusion rates of up to 20% did not affect fish growth rate significantly. This results in a significant cost savings for the farmed fish. As with many diets containing vegetable proteins, a feed attractant is often beneficial to maintain feed intake.

Canola Meal for Omnivorous Finfish
Canola meal is increasingly used in aquaculture diets for species such as catfish, carp, tilapia, bass, perch, sea bream, and turbot. Canola meal is also commonly included in carp diets, which are frequently vegetable protein based.
Tilapia are regularly given diets containing canola meal. Fangfang et al. (2014) tested 30% inclusion of canola meal in tilapia diets with no impact on growth performance. In another study researchers tested six canola meal inclusion levels of 0 (control), 11, 22, 33, 44, and 55%, replacing 0, 15, 30, 45, 60, and 75% fish meal in the diet. There were no adverse effects of canola meal on growth or feed efficiency, even at the highest level of inclusion (Luo et al., 2012).
Several species of carp are reared for food throughout the world, and more experiments concerning the feeding requirements of these species are becoming available almost every day. As more is learned, the importance of canola meal is coming to light. In one study meat and bone meal was replaced with canola meal in diets for juvenile grass carp, and there were no differences in growth rate or feed conversion (Veiverberg et al., 2010) between the two sources of protein. In fact, fillet yield was improved with the canola meal diet. More recently, Jiang et al. (2015) determined that grass carp grew well with diets containing 30% canola meal. Rohu given canola meal as their protein source had higher growth rates than those given cottonseed meal, rapeseed meal, soybean meal or even fish meal (Table 5).

Canola Meal for Shellfish
The replacement of even some fishmeal in diets for shrimp is beneficial in reducing costs and improving the viability of the industry. Canola meal has been successfully used in diets for shrimp and prawns in many parts of the world. In an older groundbreaking study conducted in China, Lim et al. (1998) found that 15% canola meal in shrimp diets resulted in no significant performance differences. However, in the early study, 30% and 45% inclusion levels resulted in growth rate and feed intake depression. Since then, knowledge related to the nutrient requirements of these species has been gained, highlighting greater applications for the meal.
Research conducted in Mexico (Cruz-Suarez, et al., 2001) revealed that canola meal can be incorporated into the diet at 30%, replacing fish meal, soybean meal and wheat, with no change in performance of juvenile blue shrimp. In Malaysia, researchers found that canola meal alone could be used to replace 20% of the fish meal without altering performance. The same researchers (Bulbul et al., 2016) determined that a mixture of canola meal and soybean meal (40:60) could be used to 85% of dietary fishmeal without affecting growth, feed efficiency or health of the farmed shrimp.
Researchers in Australia (Buchanan et al., 1997) fed prawns diets with 0, 20 or 64% canola meal. An enzyme cocktail along with the high inclusion level allowed the prawns to achieve growth rates equivalent to the control diet without canola meal. Ground canola seed has recently been determined to be a promising ingredient for farmed crayfish (Safari et al., 2014). Such results demonstrate the versatility of canola meal for emerging species.
Additional Resources