Canola 4R Advantage – update
Program guidelines now include the cost of third-party soil sampling as an eligible expense for reimbursement under the soil testing BMP. This means that growers can be reimbursed for up to 85 per cent of the cost of a basic soil testing package for macronutrients, plus 85 per cent of any third-party sample collection costs.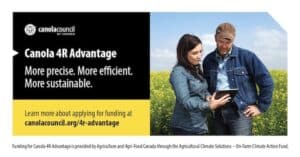 The four BMPs eligible for funding under Canola 4R Advantage are:
Applications are currently open and can be initiated by a grower or their 4R designated agronomist through the digital platform. More information at canolacouncil.org/4r-advantage.
Motivated to change: Canola seed plans for 2023
Our Yield Robbers 2022 survey from October (in place of our usual quiz) asked: What changes (if any) are you planning for 2023 based on the 2022 growing season? The two most common responses were "change insecticide seed treatment" and "change cultivars". Think about why you want to change, and talk to seed companies about traits and treatments they offer that could satisfy that need. Two things to keep in mind: (1) Trade offs will be required. The most appropriate clubroot resistance (find the CR canola list under "Manage clubroot disease") or blackleg resistance, for example, may not have the ideal maturity rating or harvest package. Which traits are must haves, which are nice to have? (2) Remember positive results. Maybe the cultivars grown last year were the best choices based on circumstances, and perhaps there are other management practices required (seeding date and rate, weed management, etc.) to improve results. Check notes from the growing season on factors that may have reduced yield, factors that may not be the fault of the cultivar. (Choose the right cultivar for each field)
A safe winter nap for stored canola
As weather starts to cool after a warmer than usual fall, this will be a good time to turn on the fans to cool the grain further and check canola bins for signs of spoilage, remembering to check more than just temperature for safe canola storage. The best method to check for spoilage is to remove about a third of the bin. Put it on a truck or move it to another bin. This disrupts the moisture cycle and helps to stop any heating or spoilage that may have begun in the central core. Feel and smell canola as it comes out of the bin. Check for visual abnormalities such as sweating. Run another moisture and temperature test. If canola has any hint of spoilage, consider cycling the whole bin. (Factors that increase canola storage risk)
Soil testing done. Now what?
Soil samples collected in the weeks before freeze up provide the most accurate indication of soil nitrogen levels available to crops next spring. (The right time for soil sampling) These accurate samples help with fertilizer rate decisions, including for fall applications. With soil test results for each field, growers and agronomists can set fertilizer rates appropriate for yield goals and farm economics. They can make more informed purchase decisions. They may want to take delivery of fertilizer, even if they don't plan to apply it this fall. See the Canola 4R Advantage topic above for information on how to get funding for soil sampling. (Nitrogen cycle graphic). (How much fertilizer does canola need?) (Manitoba fall fertilizer application deadline is November 9. More here.)