What are herbicide spraying's biggest pitfalls?
Each year, we hear reports of herbicide damage from tank residues. A full or partial tank that sits for several or more hours is at highest risk of drawing out residues. Careful clean-out before filling is critical. As an added precaution, give the sprayer a spa day. When the sprayer is sitting empty and idle, fill the tank with water, add a cleaning agent and leave it for 12-24 hours. (Cleaning the sprayer tank) (Sprayer tank clean out tips)
With soil temperatures now warm and many of the driest regions finally receiving some rain, expect weeds to take off. Earlier herbicide timing to tackle weeds when they are small is always better. Controlling resistant kochia at pre-emergence should be a top priority on every acre: choose an effective tank mix partner. To improve weed killing efficacy and ensure an emerging canola crop isn't shocked by herbicide, wait for regrowth before rolling out the sprayer after a frost. (Weed management timing)
Where are the flea beetles?
Flea beetle numbers are currently average to below average across much of the Prairies. Numbers are higher in the Carrot River, SK area, but few canola acres have yet emerged in that region. Be on the lookout for flea beetles. Scout diligently and be prepared in case a sudden influx of the bugs coincide with crop emergence. East of the Red River, where the forecast is predicting +30°C next week and the beetles are already present, there could be a perfect flea beetle storm brewing. Use of enhanced flea beetle seed treatment has been strong, but even those acres require scouting. (Flea beetle management tips) (Pest number one becomes number one-er)
Pull the trigger on early season blackleg fungicide?
Blackleg infection was notably high across the Prairies in 2022. Acres are at significantly increased risk of blackleg if:
they are in tight rotation (canola on canola or canola-cereal/pulse-canola),
resistance genes don't defend against the specific blackleg race(s) present,
scouting shows previous infection (or scouting isn't done), and
acres are planted to the same variety as previous years.
Blackleg requires stronger management across the Prairies. Now that planting is largely complete, it is too late for our preferred blackleg management techniques. Early season foliar fungicide is a rescue option but it is not always effective and must be applied early. Application will often be on bare ground, as the cotyledon to 2-leaf stage is generally considered the most appropriate timing for a foliar blackleg fungicide. If applying fungicide, leave a test strip to determine whether the application was economically beneficial.
Scouting last year's stubble to estimate the risk of upcoming infection is more effective than looking on new seedlings. Blackleg will appear on last year's stubble as black spots that don't rub off. While scouting is important, careful assessment of risk factors should drive management decisions. (Important tips for best management of blackleg) (Fungicide strategies for blackleg)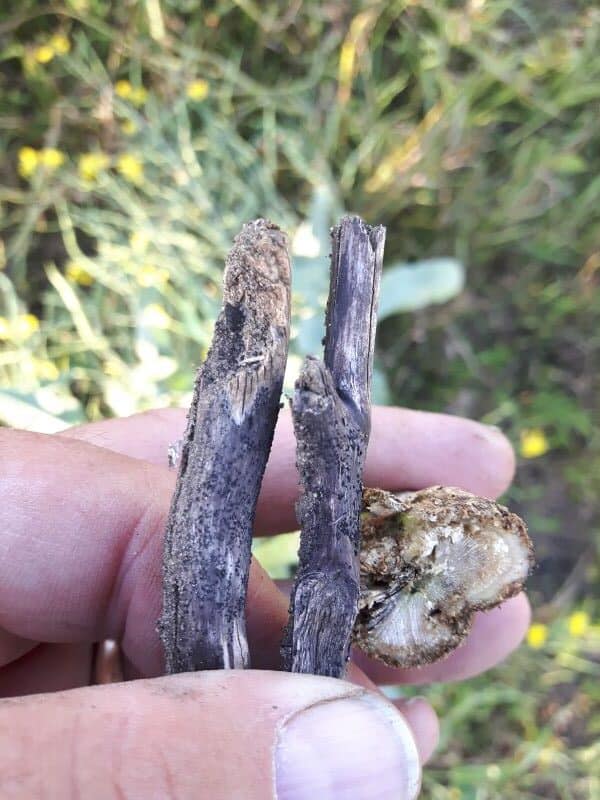 Is the drill performing?
The first few days of crop emergence are the best opportunity to check seeding and emergence consistency. If seeding is complete, assess emerging canola rows to best calibrate the drill for next year. If seeding is still in progress, assess patterns, skips or delays in emerging cereal rows to optimize seeding of any final acres. Note time to emergence: are there differences between varieties, seeding depths, or other traceable factors? Up and out quickly translates to better early season vigour and better seed treatment success, including improved flea beetle management. Inconsistent emergence makes timing the first spray pass very challenging. (Podcast: Prep drill for uniform depth) (Video: Preparing the drill for canola seeding)
What do I need to know about the label update for lambda-cyhalothrin?
The new and updated label indicates that crops treated with lambda-cyhalothrin (e.g.: Matador, Silencer, LaBamba, etc.) cannot be used as livestock feed in Canada, including any harvested grain, seed screenings, by-products or aftermath. As any crop entering the grain handling system is eligible for use as livestock feed, this poses a risk of becoming an off-label use. Unless a grower is certain that their canola will be utilized solely for export or human consumption, they may encounter challenges remaining compliant with label directions when marketing a lambda-cyhalothrin-treated crop this growing season. Learn more about the label update, CCC's advice and alternative products here.