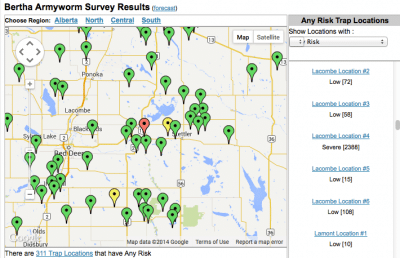 This zoomed in section of the Alberta bertha armyworm map shows the only location across the Prairies, to date, showing a "severe" level of adult moths. That location is at Lacombe.
Click here for the full Alberta map.
Accumulated counts for most of Manitoba and Saskatchewan have been below 300 per trap so far, although numbers picked up considerably in the past week in a few locations. At this time, only one Saskatchewan site has exceeded the lowest level of risk (>300). And only one Manitoba site has more than 300 (Altamont at 312) as of this week.