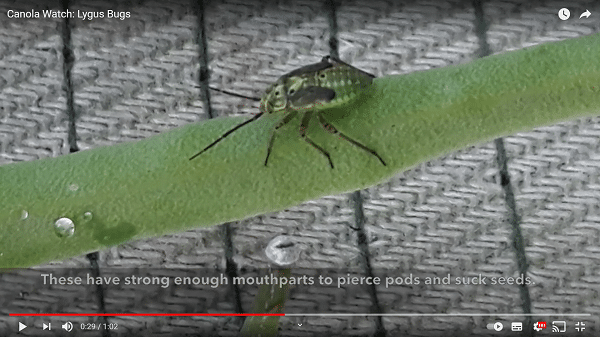 New research driving threshold changes for lygus bugs
Lygus bugs have a spotted history of being a pest in podded canola. This year — without rainfall washing the small nymphs down — we are likely at a higher risk due to extremely dry conditions across the Prairies speeding insect development and holding crops back. The time to scout for lygus is as the crop comes out of flower, using a sweep net to determine the need to spray. AAFC research scientist Hector Carcamo, who has conducted lygus research for the past few years, has determined a threshold of 20 to 30 in 10 sweeps under normal conditions. Older threshold tables don't reflect the fact that low levels of lygus (5 in 10 sweeps or 0.5 per sweep) could result in a yield benefit under normal conditions. Drought conditions and high crop value tend to lower growers' tolerance for insect damage, and drought lowers the crop's ability to compensate so growers may choose to lower the 2 to 3 per sweep threshold. However, new research indicates little economic damage below 1 per sweep (10/10 sweeps). Older thresholds that specify a specific bushel per acre loss per lygus are likely not that accurate at very low (less than 5/10 sweeps) and high (more than 34/10 sweeps) counts. More information on the scouting, timing and thresholds of lygus bugs is available here.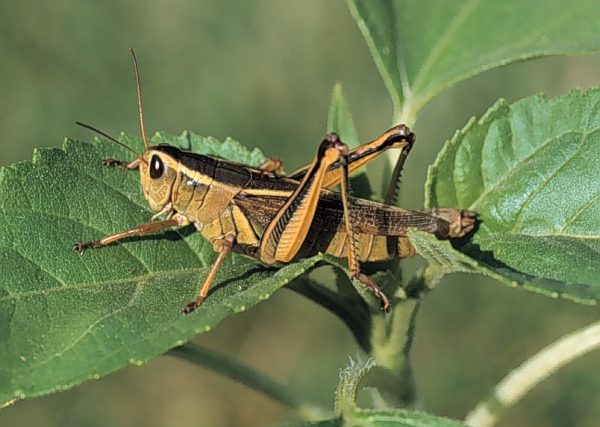 Hot, dry conditions escalate grasshopper risk
Grasshoppers are not often a pest in canola — they're more typically an issue in pasture, cereal and lentils. But if neighbouring crops have been removed, watch out! The risk of grasshoppers is possibly worse this year than most thanks to the hot, dry conditions that have become almost uniform across western Canada. One reason is because the cold-blooded creatures eat more and grow faster in hot weather.  A continued emergence from last years eggs can result in what seems like a continual supply of young nymphs that eat voraciously through adulthood. Ultimately, due to their constant movement, fighting grasshoppers may require repeated management. For key threshold and scouting tips for grasshoppers, read this article. For additional scouting tips and modeled estimates of grasshopper development across the Prairies, see these prediction maps. 
Hail hail?
A mid-season hail event can be a stressful event for canola producers. The later it happens in the season, the greater the damage it can have. But hail doesn't necessarily make your crop a write-off. Canola can, with enough time, recover from hail that knocks off a large percentage of flowers and can flower for longer to compensate for the flower loss if time and environment cooperate. It's also important to remember that hail is moisture. In light hail, canola can sometimes overcompensate and produce higher yield. In serious hail events, where entire flowering branches are knocked off, plants that are still actively flowering can produce new branches. This will delay maturity, but — depending on the days and weeks of growing season remaining — these new branches can produce a decent yield. For more information, read this.  
Will my canola survive the heat? That depends
A question canola producers often have during a heat wave is "Will my canola recover?" Unfortunately, the only 100 per cent proven solutions for heat-damaged canola are cooler temperatures and moisture. Canola is most susceptible to heat stress during early flowering; however, there is a greater chance for the plant to recover if heat stress occurred earlier in its life cycle (like early flowering) and then cooler, more favourable conditions occurred thereafter. Plants are less likely to recover fully from heat stress if it occurs during seed or pod formation. For information on the subject of reflowering after drought or hail, click here.