Europe's biofuel industry is a significant export opportunity for Canada's canola industry, and growers can open the door to this market by answering a short questionnaire about their sustainably-produced canola. It's a simple and free process that will expand market access, and most Canadian producers already qualify.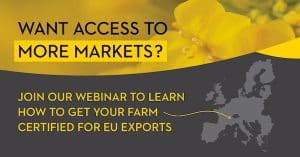 Please join the Canola Council of Canada for a webinar to explain how individual farms can participate in this exclusive market.
The webinar is Thursday, August 22 at 9:00 am CDT (8:00 am in Alberta and Saskatchewan). It will be 30 minutes, including remarks and questions.
Webinar presenters include:
the CCC, on diversification efforts and making the most of access to European markets
a certified exporter (speaking on behalf of Viterra, Cargill and G3), on EU demand and process
International Sustainability and Carbon Certification (ISCC), on their role and participant requirements
a certified canola grower, on their experience and benefits of certification
Growers will have the opportunity to submit questions in advance when registering. After registering, they will receive information about how to join by phone or computer. Please note this will be webinar with audio only (will not include any visuals of the speakers). Those who join the webinar from a computer can also submit questions during the event. The webinar will be recorded and posted to the CCC website following the event. To learn more, visit canolacouncil.org/EUcertified.