With earliest canola fields starting to flower in southern Alberta and southwest Saskatchewan, cabbage seedpod weevil scouting season begins. Here is the forecast map for 2018 based on 2017 surveys.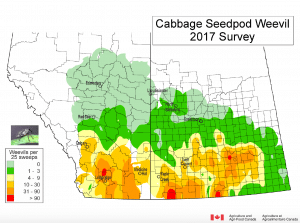 This map comes from the Prairie Pest Monitoring Network 2018 forecasts.
Alberta Agriculture is asking agronomists and farmers to help with their survey for 2018. Please submit your sweep net results.