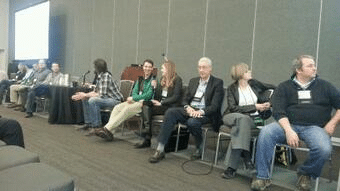 This month's Canola Watch will feature highlights from Canola Watch Live!
The Canola Council of Canada agronomy team along with guests Murray Hartman, Scott Meers, Mike Harding, Cindy Grant and John Heard presented a live version of our Canola Watch conference call at FarmTech 2014. @DocCamiRyan, who will be speaking at the CCC Convention in San Antonio later this month, took our photo (see above) and tweeted that it was the record longest panel.
The discussion included talk about crop rotation, swede midge, bertha armyworm thresholds, pollinator protection, and how to effectively use your smart phone and camera for accurate long-distance diagnostics.
We also went off on a tangent about fertilizer plans heading into 2014. Moderator Jay Whetter asked the panel, "If growers are looking to increase (or trim) fertilizer investment by $10 per acre in 2014, what should get increased (or reduced) first — nitrogen or phosphorus?" Murray Hartman answered with "potassium," noting that many growers were spending money on K fertilizer even though it rarely generates increased canola yield.
Twitter is an effective way to share agronomy information and photos, ask questions, and get useful links. And you don't have to actually "tweet" anything to benefit from Twitter. Sign up for free at twitter.com. Search by "hashtags" such as #canola and #westcdnag to filter the vast quantity of information. Follow @CanolaWatch to see what we're saying on Twitter. The CCC agronomy specialists are also on Twitter. Click here to find their Twitter handles and other contact information.