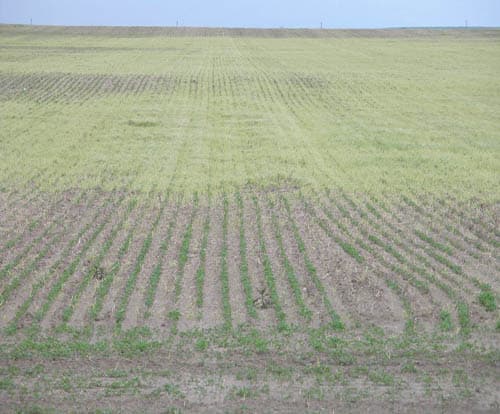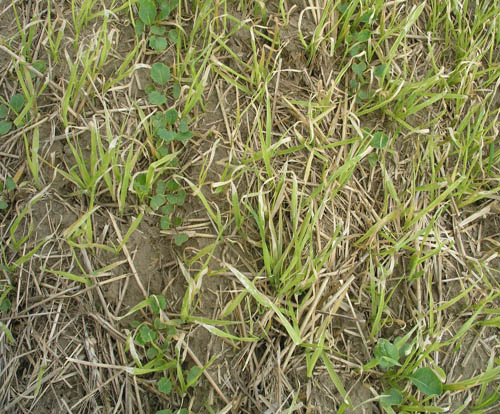 Take a look at the weed spectrum in each field before heading out to spray canola. In some cases, the straight partner herbicide may not be enough to take care of the weeds present, and tank mixes may be required.
For example:
Cleavers in InVigor canola. CCC agronomists had a question this week: "What's more important when it comes to Liberty control of cleavers, high water volume or high herbicide rate?" The answer is both, and at the correct staging. Liberty, as a largely contact herbicide, requires a water volume of 10 gallons per acre and with warm sunny conditions on spraying day to perform adequately. The high label rate will increase efficacy on what could be fairly large weeds (but will not provide cleavers control as good as you would have got with a pre-seed burnoff.) Growing conditions before and after application may have a bit more impact on Liberty preformance than other western Canadian herbicides. Contact your local rep about maximizing herbicide performance on any product you're unfamiliar with. The goal is to get the best control possible with the first in-crop application to reduce the need for a second in-crop application.
Note: These considerations would also apply to dandelions, narrow-leaved hawk's-beard and any other weeds that may need special attention to provide good control.
Click here for sprayer strategies for each herbicide for HT canola.
Grassy weeds. Bayer now supports a higher rate of Centurion (50 mL/acre) for use with Liberty on Liberty Link canola. All clethodim products are registered for tank mixing with Liberty at 25 mL/acre.
Foxtail barley is one grassy weed that may not be effectively controlled with in-crop rates of glyphosate on Roundup Ready canola. The label rate of glyphosate in-crop will not be effective. An approved tank mix with a graminicide effective on foxtail barley is likely a better option than going with a higher off-label rate of glyphosate that may knock back the crop and reduce yield potential. Click here for more on grassy weed control in canola.
Thistles. For thistle control in canola, a tank mix with Lontrel (clopyralid) may provide improved control than the HT product on its own. Several co-pack products are available as well. Note that mixing Lontrel and Liberty is not registered or supported by either manufacturer so sequential applications will be required. Click here for more thistle control options.
Check labels for rainfastness. When dodging rains with in-crop weed control, consider the rainfastness of the chosen herbicide. This may be a feature worth investing in if spraying with rain in the forecast. Check with the manufacturer to identify practical differences.