Canola's sustainable future
The Canadian industry's plan to increase canola productivity includes bold sustainability targets and a commitment to meet society's environmental goals. As we increase canola yields, we use farmland more efficiently. We also sequester more carbon, support biodiversity and use less herbicide and fuel.
Learn more about:
---
Sustainability goals for Canadian canola
The Canadian canola industry has set environmental sustainability goals to accompany our 2025 production goals.
---
---
---
---
Read more about canola sustainability. (PDF)
---
Canola's sustainability story
By adopting leading-edge innovations, farmers are able to produce more canola per acre while maintaining the existing farmland footprint. New plant varieties with traits such as herbicide tolerance have helped farmers switch to no-tillage practices and farm more efficiently and sustainably.
Building healthier soils
One of the greatest challenges in growing canola is competition from weeds. Farmers used to rely on tilling the soil to remove weeds from their fields. It dried out the soil, leading to erosion and reduced fertility. With herbicide-tolerant canola, farmers can forgo tillage and use smaller amounts of herbicide to control weeds, keeping our soil moist and fertile. Today's herbicide-tolerant varieties have allowed farmers in Canada to reduce the amount of herbicide they use by 20% since 1996.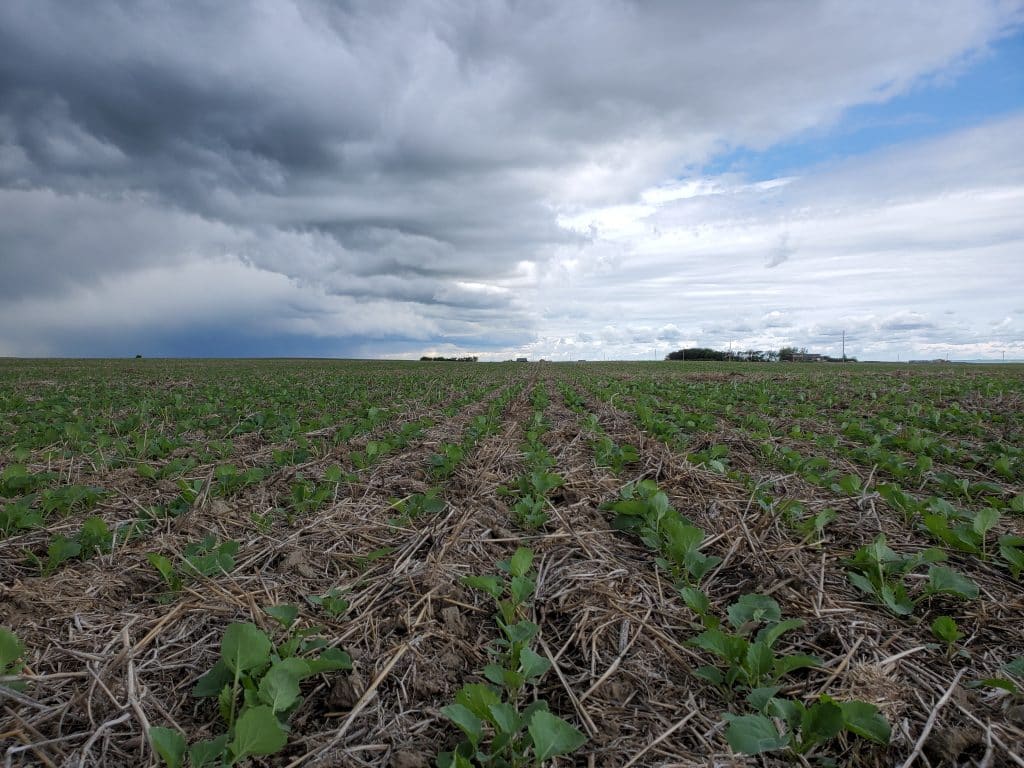 Lowering emissions
The combination of conservation tillage and growing herbicide-tolerant crops means Canadian farmers are making fewer passes over their fields and using less fuel. Conservation tillage practices have resulted in 126 to 194 million fewer litres of diesel fuel used on Canadian farms each year, reducing GHG emissions by about 450,000 to 750,000 tonnes per year.
Sequestering carbon
In 1991, 7% of Western Canadian farmland was seeded with no-till practices. By 2016, this number had grown to 65%. When soils are left untilled, they sequester greenhouse gases. Low-till and no-till farming help Canadian farmers sequester 11 million tonnes of greenhouse gases in their fields every year. 70% of this sequestration has been due to canola.
Supporting biodiversity
Canola fields are habitat for an incredible diversity of beneficial insects such as bees, butterflies, spiders, wasps and beetles. These diverse insect groups help increase crop yields and provide a natural check on insect pest populations. Farmers use a wide range of tools such as crop rotations and detailed field scouting to protect these valuable allies.
Responsible use of crop inputs
Canadian canola growers are also adopting innovative and sustainable practices like the 4R Nutrient Stewardship Program, which improves use of important plant nutrients like nitrogen fertilizers.
---
Canola and bees – a sweet relationship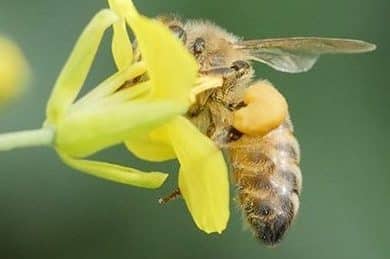 Canola is an ideal food source for honey bees, while honey bees can have a positive impact on canola production. Canola farmers work closely with beekeepers to protect bees and this mutually beneficial relationship. Over several decades, canola seeded acres and honey bee colonies have shared a linear increase in numbers.
Learn more about why bees love canola, and canola loves bees.
---
Canola biofuels: a new environmental opportunity
Biofuels made from canola are now expanding the crop's environmental benefits by providing clean-burning alternatives to fossil diesel.
Learn how we can make a big impact on GHGs by using more canola biofuels.