Canola Watch has many valued connections, including the Canola Council of Canada, SaskCanola, Alberta Canola and Manitoba Canola Growers, as well as research institutions, government extension departments, ag businesses, universities and other commodity groups. This section provides timely support for canola-related projects outside of Canola Watch.
Top Notch – Sclerotinia stem rot webinar. As part of its Top Notch Farming Tips program, SaskCanola will host a webinar this Friday, June 26 at noon Saskatchewan time with AAFC research scientist Kelly Turkington. The topic is sclerotinia stem rot. Register.
Manitoba Crop Diagnostic School goes virtual. The virtual part of the School is password protected and goes live as of July 7 and continues to be live until August 7. Early bird pricing is $100 until June 26, then goes to $125. Focus areas for 2020 are: weeds, crop nutrition/soil health, entomology, crop pathology, cereal management and pulse management. Registration and information.
Remembering Phil Thomas. Phil Thomas, known to many as Mr. Canola, passed away peacefully last week. Thomas was a former Alberta oilseed specialist whose 50+ years in agriculture meant he was a lead in canola production and agronomy practices since the beginning. As a leading canola expert, he had a knack for relating very practically to growers and agronomists. He authored the first ever Canola Growers Manual which has since evolved into Canola Encyclopedia and continues to be the foundation to growing canola in Canada. Phil always made time to talk about canola agronomy and had many great tales of canola in far flung places around the globe. We wish our deepest condolences to Phil's family and thank him for his tireless and long-standing contributions to our industry. Obituary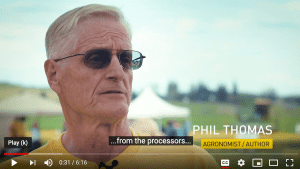 Manitoba updates clubroot map. The RM of Hillsburg-Roblin-Shell River is now in the highest category with ­­well over 80,000 spores/gram of soil found in a single field. No symptoms were observed, since this field was tested in spring 2020. See the map.
Help with cutworm collection. CCC agronomy specialist Keith Gabert has a contact looking to collect cutworms for a research project. If you have an outbreak and are willing to allow researchers to collect samples, please text or call Keith at 587-377-0557.