The 2018 Canola Performance Trials (CPT) small plot and field scale data booklet is now available on the CPT website. Download and view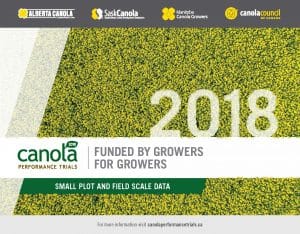 The booklet displays yield, height, lodging, days to maturity and calculated gross revenue values for 29 varieties (from all three HT systems) grown in short, mid and long season zone locations all across western Canada. It features results from 18 standard and nine straight cut small plot trials, as well as 42 field-scale trials across the Prairies (including 13 standard, 20 straight cut and nine clubroot-resistant variety field scale trials).
The three Prairie canola grower groups – Alberta Canola, SaskCanola and Manitoba Canola Growers – funded the 2018 program. As a means of participation, the B.C. Grain Producers Association conducted trials in the Peace region. The provincial oilseed specialists and industry scientists provided expertise. The Canola Council of Canada delivered the program working closely with the CPT Governance and Technical Committees and the contracted coordinator (Haplotech). Seed was provided by the distributing companies.
The 2018 CPT dataset has not been added to the online database yet, but we are working to get it incorporated as soon as we can. We will send out another Canola Watch update once this database is updated.