2017 Canola Performance Trial (CPT) small plot and field scale data booklet is now available on the CPT website for download and viewing! Find the booklet here.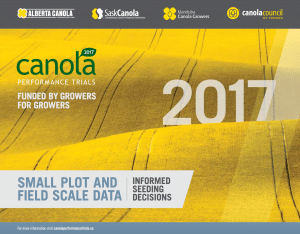 2017 CPT data has not been added to the online database yet, but you can use the database to review previous years' results. We will send out another Canola Watch once this database is updated.
The booklet displays yield, height, lodging, days to maturity and calculated gross revenue values for over 20 varieties (from all three HT systems) grown in short, mid and long season zone locations all across western Canada. The field scale dataset includes 26 standard trials and seven clubroot-resistant variety trials, which used the standard CPT protocol, as well as 12 straight cut trials which utilized the new CPT straight cut protocol.
The 2017 CPT program was funded by Alberta Canola, SaskCanola and the Manitoba Canola Growers Association, with contributions from the BCGPA and is administered by the Canola Council of Canada. The CPTs continue to provide relevant, unbiased, data on leading varieties and newly introduced varieties from trials that reflect actual production practices.
Be sure to have a look at the field scale trials and see how some of the popular clubroot-resistant varieties performed, how the varieties in the straight cut trials compare and how the standard trials in your area performed. You can also check out the top yielding varieties in your season zone or province, examine the Liberty Link, Clearfield or Roundup Ready varieties or consider the height and lodging scores of small plot trial site data.
Funded by growers for growers. See what more it can do for you at www.canolaperformancetrials.ca.