Manitoba Canola Growers Association and the Canola Council of Canada will host their second annual canolaPALOOZA, June 22 at the Agriculture and Agri-Food Canada site in Portage la Prairie. The event gives you an opportunity to interact with the canola industry experts in a fun, interactive way.
Space is capped at 200. There is no cost but registration is required.
Attendees can come and go, and visit stations at their own pace. Stations run from 9:00 to 3:00.
AAFC is on the south side of Portage la Prairie at 370 River Road.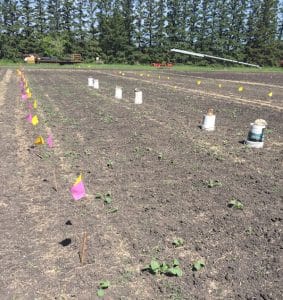 Station topics include:
Inside the Lab: A look at what happens to your soil samples when testing for clubroot. Early detection and early response is crucial when dealing with clubroot, find out why. Instructors: Holly Derksen (Manitoba Agriculture) and Xiaowei Guo (PSI Lab)
Soil Compaction: Impacts on canola stand establishment and BMPs for soil health. Instructors: Curtis Cavers (AAFC), Marla Riekman (MB Ag), Mitchell Timmerman (MB Ag) and Mario Tenuta (U of M)
Insect Pest Management: Understanding threshold numbers for flea beetles, lygus and cabbage seedpod weevil. Instructors: John Gavloski (MB Ag) and Tharshi Nagalingam (U of M)
Storage Management: Preventing and managing storage issues with canola. Instructors: Angela Brackenreed (CCC), Lorne Grieger (PAMI) and Joy Agnew (PAMI)
Fertility – Top Dressing: Products to top off canola's nitrogen needs with, while focusing on the importance of rates and timing of products. Instructors: Rigas Karamonas(KOCH), John Heard (MB Ag) and Warren Ward (CCC)
Canola Eat Well Snack Station: Easy to cook demos highlighting the versatility and health benefits of canola oil! Instructors: Ellen Pruden (MCGA) and Jennifer Dyck (MCGA)
Sprayer Tank Cleanout: Focusing on proper cleanout techniques and chemistries to be cautious with. Instructors: Tom Wolf (Agrimetrix), Brian Caldwell (Agrimetrix) and Enns Brothers
Understanding the Prescription: Taking a peak at new precision ag technology and the importance of ground truthing the technology; with an added component on weather stations! Instructors: Ian Cook (Enns Bros.) and Rotimi Ojo (MB Ag)
Beneficial Insects/Natural Areas: Importance of natural areas within cropping systems and the beneficial forces they can provide. Instructors: Melanie Dubois (AAFC), Lora Morandin (Pollinator Partnership) and Gregory Sekulic (CCC)
Group 2 Weed Management: Focusing on the management of group 2 products on four canola herbicide systems. Instructors: Jeanette Gaultier (MB Ag), Rob Gulden (U of M), Jameson Hall (Cibus) and Ian Epp (CCC)
Crushing, Grading, & End Use: Digging deeper into harvest samples, why grade matter, a look at crush output and where in the world our Canadian Canola ends up. Instructors: Chris Fleury (CGC), Taryn Dickson (CCC) and Cargill
Stand Establishment: Using the new canola calculator to help determine target plant stands and highlighting the difference between the drill and planter for canola. Instructors: Murray Hartman (AB Ag), Harold Brown (Bayer) and Brittany Hennig (CCC)
Blackleg Management: Blackleg diagnostics in field and learning about a new tool to help manage the disease; R-gene labels. Instructors: Sakaria Liban (DL Seeds), Gary Peng (AAFC), Harunur Rashid (U of M) and Clint Jurke (CCC)
Mystery Plots – CSI Canola: Put your agronomic skills to the test with our mystery canola plots, highlighting the importance of scouting and tool/techniques to help your scouting game. Instructors: Anastasia Kubinec (MB Ag) and Nicole Philp (CCC)