Bertha armyworm moth counts from pheromone-baited traps were low in most areas, but reached moderate levels in parts of central Saskatchewan and western Manitoba. This does not mean that high levels of larvae will be present, but indicates that while scouting canola in late-July and August look for the presence of potential feeding from bertha armyworm larvae.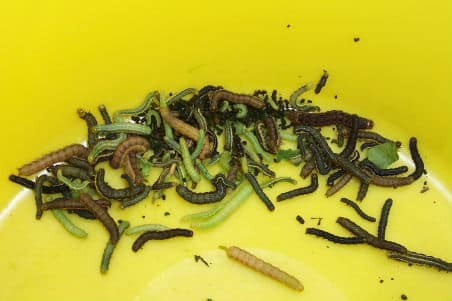 While economic levels of damage have not been reported anywhere yet this year, individual fields could experience isolated high numbers.
Larvae prefer to feed on leaves, but will feed on pods when leaves are eaten or die off. They may not always be on plants during the day. When scouting, look on the ground and particularly under debris or areas where bertha armyworms can hide during the day. Read more on bertha armyworm thresholds.
 
The Peace River Region Annual Canola Survey looked at 156 fields in the region. The survey began in 2003 with the main objectives to (i) collect insect pest data and (ii) detect the introduction of the cabbage seedpod weevil into the region. Zero cabbage seedpod weevil were observed in the region in 2016. Click here for the complete report.