Lygus study in Saskatchewan. Tyler Wist at AAFC is looking for growers who plan to spray for lygus. He would like them to leave four untreated check strips in the sprayed field as part of a study to test insecticide recommendations. He knows this will be a last minute decision, but if you let him know, he will come out on short notice and set up the strips. Contact Tyler at 306-385-9379 or Tyler.Wist@canada.ca. More on lygus scouting and spraying.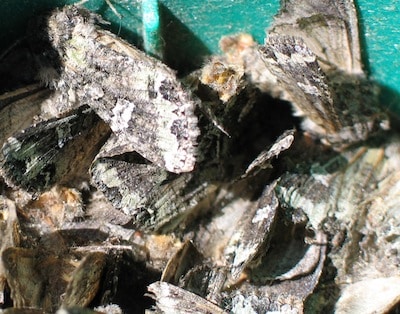 Bertha armyworm traps. Adult numbers are generally low (fewer than 300 per trap), which means a reduced risk for worm damage over the coming weeks. Alberta traps show low levels of accumulated adult moth counts. While most of Saskatchewan's 180 traps have low counts, a few hot spots have cropped up in the centre of the province. One site between Saskatoon and Regina has over 900 moths, putting it in the moderate risk category. Manitoba trap counts are mainly in the low risk range, with a few in Northwest and Southwest regions in the uncertain risk range. The highest count as of July 6, based on Manitoba Agriculture entomologist John Gavloski's report, was 569 in Benito.
Checkered white butterfly. These are in the cabbage butterfly family and these two butterfly cousins present about an equal sized risk — which is next to zero. While cabbage butterflies are white, checkered whites have a few black square-y spots on the wings. Worms do the feeding. See photos of the two larvae below. While they may eat a few leaves, they are not considered an economic risk. Adult photos and more.