Plants clipped off or that emerged then died off could be under attack from insects or seedling diseases. Or something else entirely. The Canola Diagnostic Tool at www.canoladiagnostictool.ca can help growers and agronomists work through a process of elimination to find the right cause(s).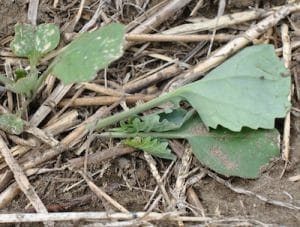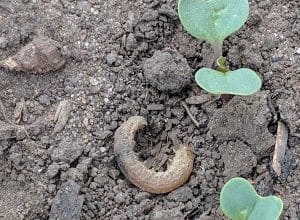 When working on underground symptoms, a good investigation kit requires a shovel, water to wash soil off roots and a magnifying glass to check for symptoms. Dig in areas where seedlings did not emerge or where plants are tipped over. Look closely at the damage and unhealthy plants to those from areas that have strong emergence.
Cutworms and seedling diseases are fairly common causes for toppled or missing plants this time of year. Here are a few tips to help you distinguish which is at work:
1. Check early. Dead seedlings quickly dry up or rot away, making it difficult to determine the cause of death.
2. Cutworms damage tends to occur in patches. These patches grow larger as cutworms advance outward toward living plants. If you find patches of missing or damaged plants, dig around healthy plants next to the missing or damaged plants. Cutworms have likely moved on to these nearby healthy plants. Day-time scouting requires digging because cutworms move underground during the day. In moist soils, cutworms tend to stay close to the surface. In dry soils, they may go down 8-10 cm (3-4").
3. Seedling diseases tend to seem more random, taking plants here and there.
4. Distinguish between bites and rots. With seedling diseases, hypocotyls and root hairs will often have a brownish rotting appearance. Cutworm damage may start to brown, but there should be clear evidence of biting or chewing. Dig up plants and carefully wash off the roots. Note that the seedling disease complex in canola includes rhizoctonia, pythium and fusarium. Rhizoctonia (or "wirestem") is often the result of deep seeding due to prolonged exposure of the very sensitive hypocotyl.
5. Cutworms don't just feed on canola. Cutworms chew through all plants in their paths, whether crop or weeds. Diseases often (but not always) tend to be species specific.
6. Consider other insects. Cutworms are not the only insects that will chew holes in stems or cut off plants at or below the soil surface. In cool conditions, flea beetles can move into underground cracks and do eat portions out of the hypocotyl at or above the soil line. Wireworms will shred the root, and plants will wither and die.
Further reading:
Canola Encyclopedia: Seedling disease complex
Canola Encyclopedia: Insects
Cutworm damage usually patchy
Alberta cutworm map
Canola Diagnostic Tool