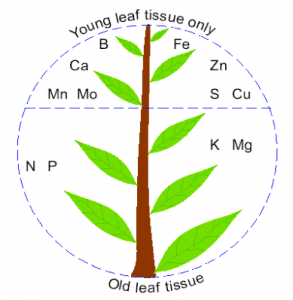 Nitrogen: If timely moisture has improved yield potential and if applied nutrient was not enough to meet this new yield potential, canola fields may benefit from a top dress of nitrogen.
Nitrogen deficiency symptoms first show up in older leaves as pale green to yellow colouring, and sometimes purpling. Tissue analysis can confirm these observations, but tissue analysis is not an exact science. Sampling error can be a problem. Many labs offer tissue samples, so check with the lab for proper sampling procedures. Sample as early as possible to get results in time to take action.
Canola has a very high demand for nitrogen. Peak uptake is at the rosette to bolting stage, when the crop can require as much as 7 lb./ac. of nitrogen per day. Making sure the nitrogen is available to the crop for this period is important, therefore in-crop applications should be made prior to this. Hopefully 1/4" to 1/2" of rain follows to wash applied nitrogen into the root zone.
Sulphur: With sulphur deficiency, yellowing and leaf cupping tend to occur on new leaves first. Purpling of leaf edges can show up when deficiency is fairly severe. Deficiency symptoms can be more evident at flowering, with small pale-coloured flowers. This can occur in patches, and often the hilltops are a good place to look.
In one extreme case this week, a canola field was showing obvious signs of sulphur deficiency. The grower had been using high rates of nitrogen, but had not been adding sulphur at all. Canola has high demand for sulphur, and an in-crop application can effectively rescue a deficiency situation. The earlier a deficiency is corrected the better, but applications as late as early flowering can still provide a yield benefit.
Phosphorus and potassium: Top dress applications of phosphorus and potassium are not likely to pay-off in the year of application. Even when soils are very deficient in P and K, soil top dress applications are not usually effective because P and K are not mobile enough in the soil. In-crop applications will not get to the roots during the growing season. If soils are that deficient, growers need to evaluate their entire crop rotation for opportunities to build the levels of potassium and phosphorus in their soil. Remedying phosphorus and potassium deficiencies takes time and money.
Micronutrients. If a micronutrient deficiency can be accurately identified, an in-crop foliar application may help. Only in the case of micronutrients, which are needed in only trace amounts, might foliar uptake through the leaves prove effective. Only a small percentage of applied nutrient is taken up through the leaves (root uptake is more efficient), but in the case of micronutrient, this might be enough. Plus micronutrients are often immobilized in the soil therefore can't be effectively applied to the soil surface. The caution is that there is very little work on micronutrients, and results we do have do not show a clear benefit to micronutrient fertilization in crop or at any other time.
Further reading:
When does top dress fertilizer make sense?
Top up tips for nitrogen and sulphur
Equipment for top dressing fertilizer
Canola Encyclopedia fertilizer management chapter