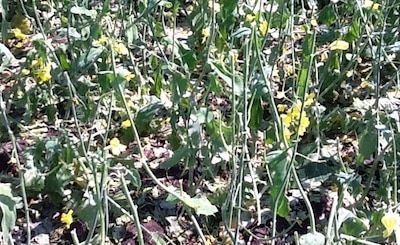 Heat at flowering and hail at late flowering and podding can be highly damaging to yield. Lost pods are yield that cannot be recovered, and hail that knocks back a crop at this stage often doesn't give the crop enough time to compensate and produce a good crop before fall frost. Growers often look for rescue treatments to revive the crop and save what's there, but nothing is proven to work consistently.
Knowing the probability that a product will work will help in the decision. For example, if a product provides a return on investment half the time, a grower may be more inclined to try a product versus a product that provides a return 20% of the time.
Boron is one product often touted to protect canola from heat but there is a real lack of data supporting all of the claims that are made about it. Boron on flowering canola has shown inconsistent results in Ontario and although some greenhouse work has shown a yield response to heat stressed canola, we haven't found any consistent positive response to boron on record in the Prairies. We have even less independent data on whatever other treatments may be promoted to rescue crops from heat and hail.
Murray Hartman, oilseed specialist with Alberta Agriculture, would like to see at least 20 site-years worth of independent data from across the Prairies before he starts to formulate a recommendation on any product or practice.
If a product does not have independent research to support its use, growers should leave check strips and take them to yield to see if the product provided an adequate return on investment. It may take a few years of these on-farm trials to build a level of experience sufficient to determine whether a product works, or the conditions under which it works. This can also be worthwhile with proven practices that may not work every year and under all circumstances. Fungicide use to protect a crop against sclerotinia stem rot is one such example.