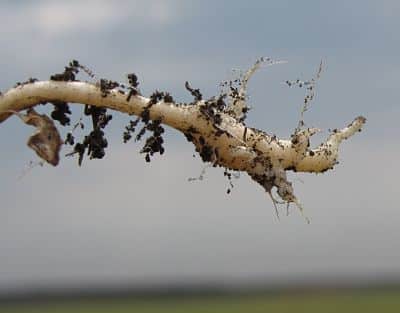 Research has confirmed the presence of a different clubroot pathotype in the Edmonton region and none of the commercially available clubroot resistant varieties in Western Canada are effective at managing it.
Stephen Strelkov, the University of Alberta researcher leading this project, has identified other resistance genes that could work, but they are not currently in commercial hybrids.
Equipment sanitation is the first line of defense to help prevent the pathogen's buildup and movement. Spraying under wet conditions is one common way to spread soil field to field this time of year, so sprayer operators are encouraged to clean sprayer and water tank wheels before leaving all fields — not just canola fields.
The level of sanitation should be based on the level of clubroot risk, and can include knocking or scraping off soil lumps and sweeping off loose soil, fine cleaning with a pressure washer and disinfection.
Growers can use the following questions to help decide how much sanitation is needed:
Do you already have clubroot in at least one field?
Have you purchased equipment that may have originated in clubroot infested areas?
Has your equipment been used in fields in infested areas?
Who has access to your land?
Do you use tillage?
The CCC also advises that canola growers and agronomists scout their clubroot resistant varieties this summer with extra effort and vigilance. A focused survey in the Edmonton region is also being planned to help understand the pathogen's prevalence and distribution.