Crop Production Week meetings are at the Saskatoon Inn in Saskatoon. SaskCanola's Producer Conference and AGM is January 10. Registration at the door begins at 8:00 a.m., with presentations from 9:00-4:30.
CCC agronomy specialist Clint Jurke will present a review of the 2012 canola disease situation. Why you should attend Clint's talk: Clint will review major disease hurdles for 2012, discussing solutions to maintain profitability and productivity and stay ahead of major diseases for 2013. He will also emphasize resistance management for blackleg and clubroot, which includes rotation of variety genetics, fungicides, herbicide systems and crops. "The key to long term disease management is to be creative and add diversity to the farming operation in a practical, economical and sustainable way," Jurke says.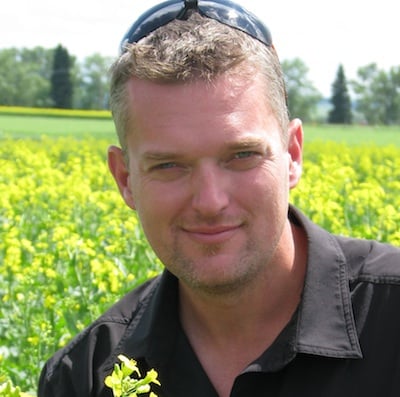 Other speakers at the SaskCanola conference are Reg Shandro from Farmacist Advisory on "We've got to do something…an adventure in farm transfer," Dr. Chrystel Olivier from AAFC on "Understanding the 2012 Aster Yellows outbreak in canola," Dr. Ramona Mohr from AAFC on "Developments in nutrient management in canola," Scott Hartley from the Saskatchewan Ministry of Agriculture on "What was bugging canola in 2012: insect review," Dr. Noel White from AAFC on "Minimize your risk with proper canola storage," Julia Leeson from AAFC on "2012 Weed Survey," Rick White from Canadian Canola Growers Association on "Influencing national and international issues and policy," and Marlene Boersch of Mercantile Venture with her "Canola market outlook." The SaskCanola AGM is from 12:30-1:30.
Come see us at the Crop Production Show. Canola Council of Canada and SaskCanola staff will be at the SaskCanola booth at the Crop Production Show at Prairieland Park. The show has hundreds of exhibitors. Chrystel Olivier from AAFC will give her talk "Understanding the 2012 Aster Yellows outbreak in canola," Wednesday at 2:00 p.m. at the Information Theatre in Hall B.