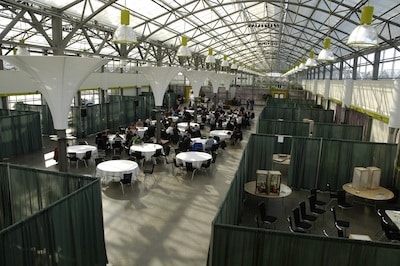 CanoLAB is a one-day interactive workshop — with real plants, real insects and real diseases — providing growers and agronomists with the opportunity to learn from a team of experts how to recognize, diagnose and manage canola production issues. The Canola Council of Canada and provincial canola grower groups are building on the success of the Alberta CanoLAB in 2012 by offering labs in all three Prairie provinces in 2013.
CanoLAB St. Albert
February 20 or 21
Enjoy Centre at Hole's Greenhouse – St. Albert
Registration begins January 16 at 8:00 a.m. Registration is $135 plus GST. Space is limited and spots go fast.
The four main sessions are:
1. Canola diseases –  a hands-on lesson on how to identify blackleg and distinguish from other diseases. Ralph Lang is the lead instructor with Michael Harding, Sheau-Fang Hwang, Steven Strelkov, Ron Howard and others.
2. Insect pests and beneficials – an up close look at how to identify and monitor various pests and beneficial insects, including bertha armyworm, lygus bugs and more. Scott Meers is the lead instructor with Ravi Subramanium, Adam Blake, and others.
3. Aster yellows – examining symptoms from plants infected at various growth stages after being exposed to varying treatments. Chrystel Olivier is the lead instructor with Scott Meers, Greg Sekulic, Jim Broatch, Kelly Turkington, and others.
4. Diagnostics and pod abortion – a look into diagnosing field problems and understanding causes of pod abortion. Murray Hartman is the lead instructor with Emile deMilliano, Doug Moisey, Jack Payne, and others.
New this year is "The Next Big Thing" Science Fair featuring several displays relating to canola research from industry, post grad students, researchers and others!
CanoLAB Brandon
February 28 (MCGA members rate) or March 1
Keystone Centre, UCT Pavilion
Manitoba Canola Growers Association members pay $50 for the February 28 event, which includes the MCGA AGM. There is no charge for attending the AGM only. Cost to non-members is $125 for February 28 and March 1. Lunch and refreshments included. CEU Credits Available for CCAs.
Registration is open and the registration deadline is February 21.  Attendance is limited. To register, click here or call 204-982-7751.
Topics are Herbicide Injury, Environmental Stresses, Insect Pests and Beneficials, Precision Seeding Effects, Nutrient Deficiencies, and Diseases of Canola. Instructors include Jack Braun, Holly Derksen, Dilantha Fernando, John Gavloski, Cindy Grant, John Heard, Anastasia Kubinec, Ramona Mohr, and others.
Attendees will be divided into small groups to participate in all the stations which will run concurrently. This will encourage a one-on-one learning environment, giving you the chance to see everything up close and to ask all the questions you want.
CanoLAB Saskatoon
March 27 or 28
TCU Place, Saskatoon
Choose one of the two days. Cost is $150 per person, and seating is limited. Registration opens 9:00 a.m., Friday, Feb 1, 2013 at www.canolacouncil.org
Those attending will be split into small groups and rotated through six different stations to work closely with industry specialists.  This event is targeted towards agronomists and other industry personnel. The stations are:
1. Disease. Hosts include Randy Kutcher (U of S), Clint Jurke (CCC) and Gary Peng (AAFC). This station will provide hands on identification and management tips for blackleg, clubroot, sclerotinia, and others.
2. Weeds & Herbicide. Hosts include Eric Johnson (AAFC), Hugh Beckie (AAFC) and Ken Sapsford (U of S). This station will have plants various residual and drift symptoms.  It will also explain the development of glyphosate resistance, including kochia.
3. Fertility. Hosts include Jeff Schoenau (U of S) and Gregory Sekulic (CCC). This station will explain how to assess nutrient deficiencies and the symptoms they cause at various plant stages.
4. Insects. Hosts include Julie Soroka (AAFC), Owen Olfert (AAFC) and Chrystel Olivier (AAFC). You will learn about the life cycles and 2013 forecasts for bertha armyworm, diamondback moth, lygus, beneficial insects, aster leafhopper and others.
5. Diagnostics. Hosts include Dan Orchard (CCC) and Murray Hartman (AB Ag). Learn the reasons behind pod abortion, and discover other diagnostic tools to use when assessing a field issue.
6. Communications. Hosts include Jay Whetter (CCC) and Lindsay Smith (Real Agriculture). Get a preview of the Canola Diagnostics webtool, go behind the scenes of Canola Watch, and find out how to use Twitter and blogs as a resource for information.
This invite includes the agenda and all other information: CanoLAB invite
Accommodation for Saskatoon: For those traveling from out of town, there are room blocks reserved under Canola Council of Canada at the following hotel, situated across the street from TCU Place.
Holiday Inn
101 Pacific Avenue, Saskatoon, SK
1-877-660-8550
Refund Policy for Saskatoon: Full refunds are available for all cancellations prior to February 22 and will be made in the same format as the original payment. After February 22, refunds are not available but you may send an alternate to the event without additional charge.