Lygus: Lygus is still being found in southern and central Alberta. Populations are higher in southern Alberta and northwest Saskatchewan and control decisions are being scrutinized on a field by field basis. Many fields are nearing the end of the susceptibility stage (when pod walls thicken/become leathery about 2 weeks after flowering).  Below is a table outlining economic threshold for lygus.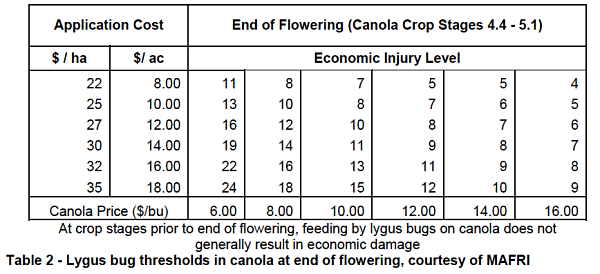 Diamondback moth: Adult counts in traps are generally low — but higher in the Peace and eastern Manitoba. Spraying has occurred around Beausejour, Manitoba.  As fields come out of flower and are podding, growers in areas with high counts need to scout aggressively to assess the threat of larval damage.
Cabbage seedpod weevil: The weevil is near thresholds in pockets of southern Alberta, but numbers are down from previous years. Click here for more information.
Bertha armyworm: Some spraying for bertha is occurring in the Peace Region with counts ranging from 2 to 13 larvae per square metre and in Manitoba's Interlake (around Teulon and Arborg) and Central Region (around Glenboro and Mariapolis). Higher numbers are being monitored in central Manitoba as well. The table below indicates the larval density (larva per square metre) at which an insecticide treatment in canola would be warranted. Twenty larvae per square metre in canola can reduce yields by 1.16 bushels per acre (Source: MAFRI). Click here for more information.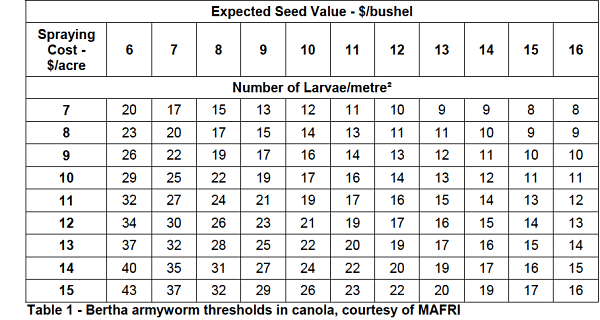 Grasshoppers: Some field edges have required spraying for grasshoppers in the Peace, notably when pastures or hay fields were adjacent. An economic threshold of 7 to 12 grasshoppers per square metre is recommended for canola. Click here for more information.
Root maggots: Plants are toppling over in some fields in central Alberta and Manitoba. Growers think disease is the cause, but when they pull up a plant they find the roots full of maggots.
Thrips: There have been reports of thrips stripping tissue off stems and the top layer of tissue on canola pods in Manitoba but this damage is not economic.