Clubroot canola disease continues to spread within Alberta, Saskatchewan and Manitoba with new fields and areas confirmed each year. The latest maps are posted in the clubroot chapter of the Canola Encyclopedia.
Alberta: A survey of 620 canola (Brassica napus) and four mustard (Brassica juncea) crops in Alberta identified 66 new records of clubroot. All positive identifications occurred on canola, with 39 crops mildly infected, 24 moderately infected and three crops severely infected. An additional 313 cases of clubroot were found during inspections by county and municipal personnel, for a grand total of 379 confirmed infestations recorded in 2020. These included the first reports of clubroot in the Municipal District of Smoky River and in the counties of Grande Prairie and Wheatland.
Saskatchewan: Visible clubroot symptoms have been confirmed in 75 commercial canola fields since 2017, which is an increase of 24 fields over the past year. The number of fields with the clubroot pathogen detected but with no visible symptoms increased by 18 over the past year. Saskatchewan update and map.
Manitoba: The 2020 canola disease survey detected one symptomatic field in the Rural Municipality (RM) of Pembina, while individual agronomist and producer reports added at least three other fields in the RMs of Roblin and Alexander. Roblin and Alexander were added to the map of those with symptomatic fields. Positive clubroot symptoms are now present in 10 RMs, with a total of 44 fields confirmed since symptomatic fields records began in 2013. Manitoba clubroot map.
Blackleg survey results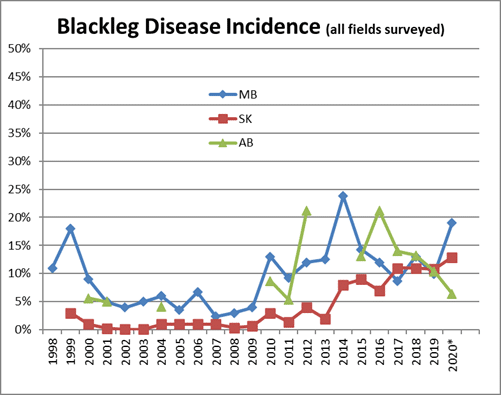 Sclerotinia stem rot survey results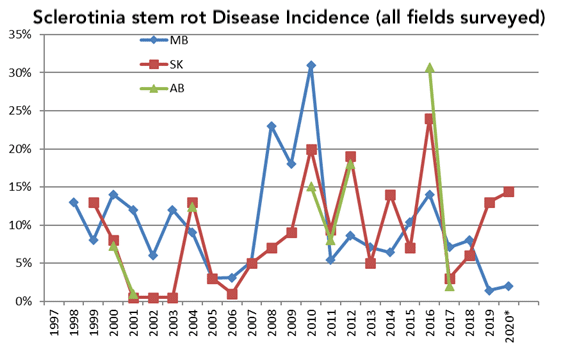 Dig deeper