Should spray thresholds change if there are multiple species in the sweep net?
The decision if and when to spray insects should be based on an insect species' economic threshold: the point at which a spray application will offer return on investment. That said, if multiple insect species attack the crop at the same time, their combined feeding may cause economic damage even if each individual species' population does not fully meet its economic threshold. Before making any spray decision, use proper scouting technique to accurately assess insect populations. Sample from at least five locations in each field, preferably in a 'W' pattern, using the recommended species-specific per plant, per square meter, or per 10 sweeps counting method rather than trap counts. Next, consider whether damage caused by multiple insect species is additive: if multiple insect species inflict the same damage style or affect the same part of the plant, their combined damage might cause more cumulative impact to the plant than multiple species that impact different parts of the plant. Finally, also take into account the value of the crop, a spray application's impact on beneficials, and the lifecycle of each pest. A pest population nearing the end of its lifecycle might not require the control efforts that a pest nearing or at the peak of feeding could warrant. The Western Committee on Crop Pests Guide to Integrated Control of Insect Pests of Crops provides economic thresholds for all canola pests of note here. (PPMN insect survey results) (PPMN weekly insect update – week 9 July 7 2023) (Insect thresholds drive profitable pest decisions) (Insect scouting guide)

Top of mind insects this week:
– Grasshoppers may move into canola as hay is cut and early crops are harvested.
– Some regions are reporting significant lygus bug numbers. Economic thresholds for lygus bugs in canola apply at podding as flowering ends.
– Diamondback moth larvae are currently only being reported in low numbers in most areas, with a few fields in Central Manitoba with levels around threshold. See this PPMN map for distribution details.
What to decide as the spray window closes on sclerotinia?
This year's sclerotinia spray decision may prove relatively easy in fields suffering dry conditions and/or a poor plant stand. That said, if rain continues to fall in currently dry regions and secondary stems flower in conjunction with sclerotinia spore production, a later fungicide application may still offer benefit in a crop with good yield potential.

It is more challenging to make a fungicide application decision in acres that have received sufficient precipitation, especially where moisture is patchy and/or the crop is variably staged. In acres where heat, moisture or other stressors caused canola to abort flowers on the main raceme, variable timing on side branch flowering may make fungicide timing particularly difficult. Consider these factors to calculate disease risk and fungicide return based on yield potential. Sclerotinia risk assessment tools: Precipitation forecasting / Prairie soil moisture maps / Alberta sclerotinia risk map / Manitoba Agriculture's Canola sclerotinia treatment decision calculator)

If a decision to spray is made, always leave a check strip and assess again before harvest to determine whether spraying made economic sense. We are still looking for more volunteers to beta test our new sclerotinia risk assessment tool. (Sclerotinia fungicide improves yield but check ROI)

Swedish researchers who developed the checklist below concluded that if risk points are 40 or higher, it is likely worth spraying: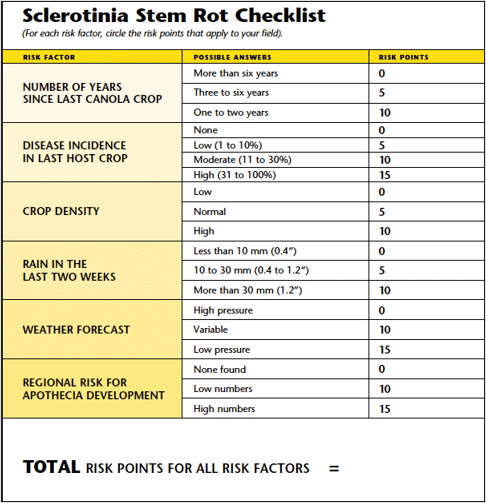 How to prep for harvest now?
Now is an excellent time to think through harvest equipment maintenance. Wait times for servicing and to obtain necessary parts will be significantly shorter (and less frustrating) now than once harvest begins.

If seeding into heavy residue proved a challenge this spring, how could better chopping and spreading of cereal and other crops' residue this fall mitigate seeding headaches in next year's canola fields? A well-calibrated combine can sometimes eliminate the need for secondary residue management passes. (Residue management: the combine can influence stand establishment) (Combine basics) (Podcast: combine college)

Agronomists who would like to learn more about combines to better support their growers should make time for Combine Clinic for Agronomists, which takes place August 3, 2023 at the Ag in Motion site (near Langham, 30 minutes NW of Saskatoon, SK). Register here.