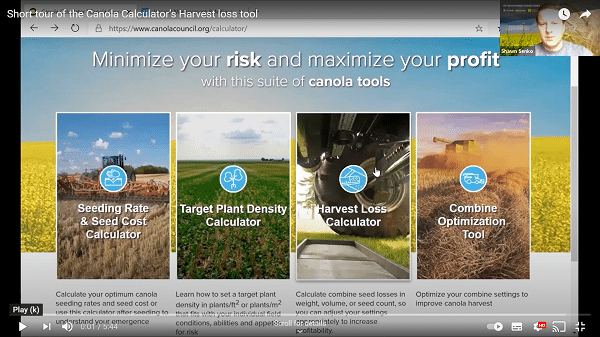 How to manage canola regrowth
Late rain has caused canola to regrow across the Prairie provinces. So what can you do about it? First, the bad news: swathed canola cannot be sprayed under any circumstances — see this article. However, there are three chemical control options for regrowth in standing canola: diquat, Heat, and glyphosate. Before proceeding, check the product's pre-harvest interval (PHI) to make sure you can still use it while retaining the marketability of your canola. Go to the Spray to Swath Interval Calculator to find out. Finally, some producers ask what happens if they spray the wrong product — can it be salvaged? Experts recommend talking to your buyer — there may be non-food markets your canola can be sold into.  
Remember variability when calibrating combines 
Optimizing your combine is a key practice for minimizing potential seed loss. Using the Harvest Loss tool followed by the "Grain Loss" option in the Combine Optimization Tool can, respectively, help you calculate estimated loss and create a strategy to minimize it. It's also important to consider field variability. Combine settings should be checked, adjusted, and optimized on at least a field-by-field basis. Yield monitors should be calibrated for each field, as field and environmental conditions can vary dramatically. For more information on reducing combine loss, read this article. To see how your losses compare with those across the Prairies, see this research summary.  
Make a plan for a post-harvest soil test 
With fertilizer supplies at a premium, now is the time to start thinking about soil testing to make a plan for next spring's fertility regime. It's best to do a post-harvest soil test close to freeze-up; that's when results will more closely resemble the nutrient concentration next spring. In addition to a composite test of the entire field, CCC agronomy specialist Jason Casselman recommends testing specific field zones with better- or less-than-average yield. In addition to fertilizer planning, this might help pin down other potential reasons for low yield, including salinity, sandy areas, and unexpected soil types. Click here for more details on fall soil sampling. Also, this Canola Encyclopedia article offers valuable information on soil sampling strategies, equipment, timing, testing depth and more.  
Manage binned green seeds aggressively 
Green seeds are familiar culprits behind spoilage in stored canola. As mentioned above, green seeds have been reported in grain samples in Alberta, Saskatchewan, and Manitoba due to rain-driven regrowth. In some cases it's too late to spray this regrowth, so your only option may be managing it in-bin. In these cases, experts recommend consistent management: keeping bins on-air, frequent bin-turning, and frequent sampling and monitoring. Delaying harvest of regrown spots until last can — at least to some extent — help separate the green material from good canola. More information on factors that can create storage risk (and how to manage them) can be found here.