Probing questions about flea beetle risk
Canola crops that establish quickly and have five to eight plants per square foot usually face minimal risk from flea beetle feeding. "Establish quickly" is easy to type but can be hard to achieve out here in the fields. The best farmers can do is take steps to reduce risk. Here are some questions to consider:
Seed later? A later seeding date may reduce the flea beetle risk if it means warmer soils and faster growth.
Buy better seed treatment? Advanced seed treatments will improve flea beetle protection in high-risk areas.
Plant more seeds? A canola plant population at the high end of the recommended range of five to eight plants per square foot will mean more plants for a fixed number of flea beetles.
Only put starter phosphorus in the seed row? Like 15-20 lb./ac. of phosphate. Higher rates of seed-placed fertilizer add more stress, slow the pace of growth and reduce the stand. 
Reduce tillage? While canola planted into warmer blackened soil may emerge faster, that same warm ground cleared of obstacles also tends to attract more flea beetles.
Read the new article "Flea beetles: Management tips" for more details, including how to improve results from foliar sprays.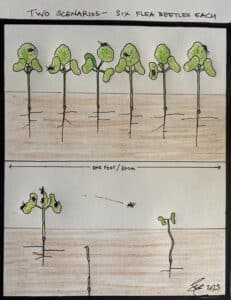 Survey says pest planning starts now
The Canola Council of Canada grower survey of late 2022 asked respondents to identify which pests represent the greatest economic risk their canola production. According to survey responses, flea beetles ranked number one followed by sclerotinia stem rot – although herbicide-resistant weeds took second spot in the Brown soil zone. In Manitoba, 27 per cent of farmers put verticillium stripe on their list, up from 15 per cent in 2020. Canola Digest article on grower survey results
What were your top yield robbers in 2022? As you prepare for 2023, review pest management product performance in 2022, risk factors lining up for 2023 and scouting steps.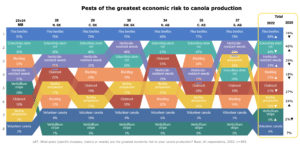 These seed labels are WCC/RRC approved
Three canola traits have official labeling systems supported through the Western Canada Canola/Rapeseed Recommending Committee (WCC/RRC). These are:
blackleg resistance
clubroot resistance
pod shatter resistance
The Canola Encyclopedia has a new section that describes these three labeling schemes, and lists the blackleg, clubroot and pod shatter ratings for 2023 canola cultivars.
Fertilizer rate reassessment
Will farmers apply more fertilizer with prices for some fertilizers lower now than in the fall? They may if yield targets, crop prices, soil moisture and snow levels support a higher rate. Logistics and machinery also enter into the decision: safe application of higher rates will ideally occur through side bands at the time of seeding. Calculators can help with "right rate" analysis. Here are a few: