Canola 4R Advantage webinar on Friday
The Canola Council of Canada (CCC) will host a webinar this Friday on the Canola 4R Advantage. The CCC program, funded by Agriculture and Agri-Food Canada's On-Farm Climate Action Fund (OFCAF), offers financial incentives to help canola growers initiate or advance 4R practices, including soil testing, field zone mapping and more. The webinar is December 16 at 11:00 a.m. Central Time. Join the free webinar to hear a grower and agronomist perspective on the on-farm benefits of implementing 4R practices, how an agronomist can become 4R Designated, along with more details from the CCC on Canola 4R Advantage and how to apply for funding. Register today!
Canadian Crops Convention, March 7-9 – Registration is open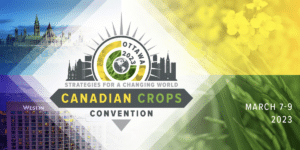 Join the Canola Council of Canada (CCC) at the fourth annual Canadian Crops Convention in Ottawa, March 7-9, 2023, as stakeholders develop strategies to help Canadian agriculture adapt and thrive in these unique times.
The Canadian Crops Convention brings together the grain, oilseed, pulse and special crop value chains to:
network, coordinate and improve dialogue;
discuss and gain insight into advancements and trends in agriculture; and
be inspired to continue a collaborative approach to advance the growth and profitability of Canadian crops.
During Convention, you'll have opportunities to make face-to-face connections with colleagues and customers from around the world in a business-focused environment. Find more details on the 2023 Convention and register at www.canadiancrops.ca.
Check bins and bags
We have heard reports of canola spoilage, and the main risk factor seems to be high temperatures at binning. Canola needs to be cooled for safe long-term storage. Other risk factors include dockage, moisture and green. How to check bins and bags for spoilage.
Winter planning: Seed treatment, flea beetles, weeds
Check with seed suppliers on deadlines to order seed treatment packages. A note that Buteo Start, an enhanced flea beetle treatment, cannot be stacked with Lumiderm.
Make canola cultivar choices based on the opportunities and challenges in each particular field. This can improve productivity and profitability of canola. Some scenarios.
Canola Performance Trial 2022 small plot results for Manitoba are on the Manitoba Canola Growers website. Results from small plots and field-scale comparisons across the Prairies will be posted soon at canolaperformancetrials.ca.
Some formulations of insecticides containing the active ingredient lambda-cyhalotrhin (Matador, Silencer) are not going to be marketed in Western Canada in 2023, based on a 2021 re-evaluation by the Pest Management Regulatory Agency (PMRA). While uses have been retained in canola, plant material, including canola, may not be used as animal feed domestically without further label changes and approvals. Alternatives exist for control of all pests controlled by lambda-cyhalothrin as long as supplies are sufficient. Canola Watch will provide updates in the new year.
For agronomists and farmers working on a plan to prevent or manage herbicide resistant weeds in 2023, a Canola Research Hub blog post covers the latest research.