Discovery Seed Labs in Saskatoon is the first to offer a test of canola stubble to determine (1) if blackleg is present and (2) what race of blackleg it is. This can help farmers and agronomists make proper use of the new blackleg resistance-gene (R-gene) classification system when making seed decisions. (For more on the R-gene classification system, watch the new blackleg video.)
For testing, the ideal time to collect samples is just before crop cutting when farmers and agronomists are doing their pre-harvest scouting. If stems seems to be infected, send in a 2-3" length of that infected stem. Include up to 12 stem samples. Discovery will test to confirm the presence of the blackleg pathogen, and it will test to identify the specific race.
That is obviously too late to influence decision-making for #plant18. Another option is to collect old pieces of canola stubble this spring from fields planned for canola this year. Try to find pieces that seem to have blackleg pseudothecia on them. Discovery can test these old pieces for blackleg races present.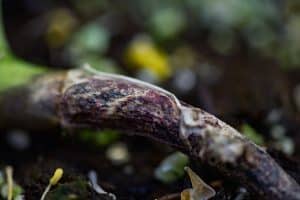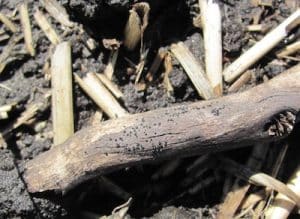 If a field has increasing incidence of blackleg, that is a sign that the pathogen population has shifted to a race or races that will overcome the dominant R-gene in the canola variety last grown on that field. By identifying the blackleg race, growers can then choose a variety with resistance to that race.
By August when field scouting and sampling will begin, other labs may be offering the same service.
Further reading:
More on the blackleg test, including stem collection protocols
More on R-gene rotation
How much blackleg before I rotate resistance?
For more on blackleg identification and management, please visit blackleg.ca. For short new "Spot Blackleg" management videos, please click here.
CCAs! Watch the video below, correctly answer 10 questions on the video, earn 1 CCA CEU. Take the quiz.