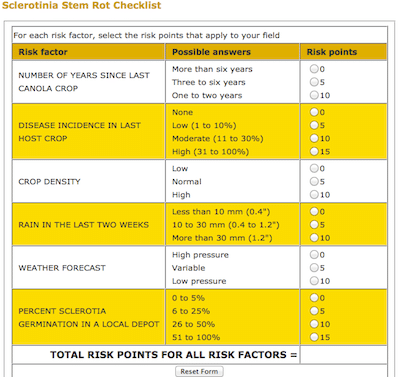 Hot, dry conditions the past number of days and variable field staging have made the decision to spray fungicide to manage sclerotinia stem rot even more difficult this year.
Moisture is the key risk factor for sclerotinia stem rot. Without moisture before, during and after flowering, disease severity and the return on investment from fungicide will be lower than if moisture is present all through these periods. Moisture can come as rain, dew and/or humidity above 80%.
Infection can be high in hot weather as long as the moisture is there. High humidity and dew are often enough for sclerotinia fungus to produce the hyphae that release oxalic acid allowing the fungus to invade healthy plant tissue and infect the plant. Night and morning lows of 15°C are perfect, especially with heavy dew. Infection may not advance during the heat of the day, but it will grow at night.
Hot days can reduce sclerotinia stem rot infection rates if heat causes infected petals to dry up and blow off the plant. Heat may also cause canola plants to drop lower leaves at an accelerated pace. If infected leaves drop before infection spreads to the stem, the heat will have indirectly stopped the infection.
The risk assessment score card (at the top) developed in Sweden says a spray will likely pay with a score of 40 or more. But canola prices are higher and fungicide prices are lower than when this was developed, so a score of 30 to 35 might be a better starting point. When filling in the card, everyone should probably score at least a 5 for rotation risk given the large canola acreage in recent years. Even if one farm has a one in 4 canola rotation, odds are some fields close by are in a tighter rotation, meaning nobody is immune to sclerotinia risk if the conditions are right.  While most spores will end up within 100m of where they were produced, some can become airborne and transport to neighbouring fields. Apothecia can germinate anywhere at high enough numbers to cause severe infection in any field — again, as long as the moisture is there.
Further reading:
Heat alone will not eliminate sclerotinia stem rot risk
How to ID 50% flower
Sclerotinia stem rot management: Questions from July 9, 2014