Sclerotinia stem rot and blackleg can both cause what looks like pre-mature ripening. Both diseases, when severe, can cut off nutrient flow up the stem, resulting in a whitened dead plant. Both can cause increased lodging. However, long-term management requires an accurate identification of which disease is the cause. Disease identification will make sure you make the correct seed and rotation decisions for next year.
Here's what to look for just before harvest: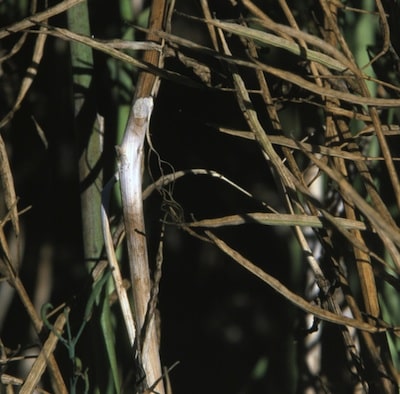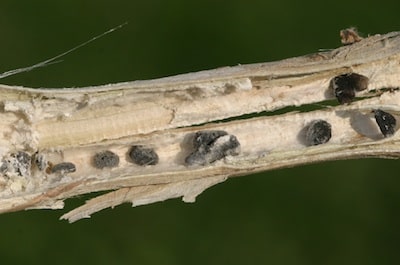 Sclerotinia stem rot. At or before swathing, stems infected with sclerotinia stem rot will be bleached or brown (like a bone) and may start to crack open or shred. Hard, black sclerotia bodies — similar in appearance of mouse droppings — found inside these bleached stems are a sure sign of sclerotinia stem rot. Not all sclerotinia-infected stems will have these. Brittle stems that shred when you twist them is a sign of sclerotinia stem rot, even without sclerotia. Examine the lower to middle areas of the stem. In serious cases, white, downy growth and sclerotia can grow on the outside of stems.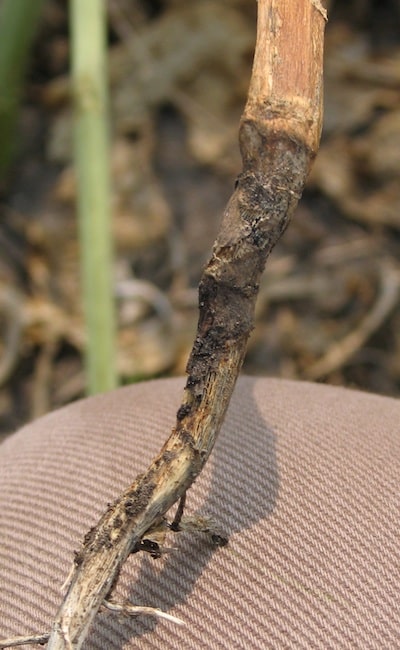 Blackleg. When blackleg is severe enough to cause yield loss, the plant will have irregular, knotty, woody cankers at the base of the stem. To identify blackleg, use garden clippers and slice through the stem at the base. Blackleg infection will lead to black discoloration of the tissue inside the stem. If more than half the area of the stem is blackened, blackleg has likely reduced the yield of that plant. If the whole cross section is black, the disease has killed the plant. How to rate a crop for blackleg. Take part in a blackleg research survey.
Another leading cause of what looks like pre-mature ripening is clubroot. When checking these whitened plants, dig up a few and check the roots.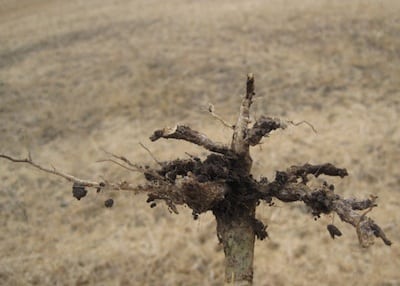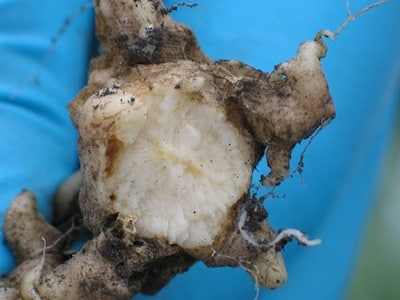 Clubroot. Clubroot severe enough to cause plant wilting and pre-mature ripening will have fairly large galls growing around the root crown. These should be easy to identify when you dig up green plants, however severe early infections may have galls that have rotten away. Look at healthier plants surrounding dead areas to assist in diagnosis. If galls are present, the best management at this stage is to prevent spread of soil within the field, and certainly from field to field. Plan to incorporate clubroot-resistant varieties into your rotation. If this is the first time you've identified clubroot and yet the damage is that severe, quite likely the disease has been on the farm for a number of years. If field sanitation to prevent the spread of soil from field to field has not been followed, clubroot may have already spread throughout the farm on field equipment.
Click here for an article describing more diseases that can be found during a harvest inspection.