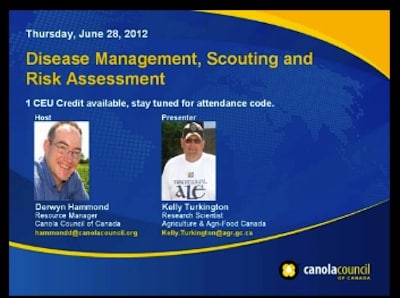 Canola coming into flower now after a wet June will be a good candidate for sclerotinia stem rot — especially if it has a thick canopy and high yield potential, and if rains or humidity occur every few days during flowering. We covered the sclerotinia risk assessment in last week's issue but here are a few situations raised this week:
—Split applications, which are approved for some fungicides, may be worthwhile in some cases. For instance, if the sclerotinia risk is questionable at early bloom, growers could use a split rate and then wait to see if the second application is needed. Another benefit to the split is if the crop is uneven and the flowering period could be longer than usual.
—If a region had been dry for a couple weeks leading up to flowering, had one large rain, then turned dry again, this one big rain event will not increase the sclerotinia risk much. Moisture needs to be replenished every 2-3 days through flowering to create a higher sclerotinia risk. If conditions stay wet after a few weeks of dry, it will take about two weeks before the release of spores from apothecia germinated by this rain will infect petals. If flowering is close to wrapping up within that time, a fungicide spray may not benefit the crop. Although using spray volume and pressure that drives fungicides down into the canopy may still provide some protection.
—Apothecia are likely to be present and producing ascospores in all regions. Growers should make a spray decision based on the microclimate of each crop and whether this microclimate is conducive to disease development.
Adding insecticide. Tank mixing insecticide with sclerotinia fungicide can work when insects are also at thresholds. If insect threat to crop yield is low, this insecticide treatment can actually have a detrimental effect on yield. That's because pollinators are especially active during the flowering stage — the sclerotinia fungicide stage. Some studies have shown pollinators can contribute 13-16% to canola yield. Taking out pollinators with insecticide will reduce this yield benefit, and the spray may also eliminate many beneficial insects that could prevent future outbreaks.