Saskatchewan. This fall, in collaboration with the Saskatchewan Ministry of Agriculture, SaskCanola will offer the clubroot soil monitoring program. Retail and private sector agrologists will have the option of testing fields on behalf of farmers. Select rural municipality offices will also have clubroot soil test kits available for growers to pick up. Clubroot will continue to be part of the overall plant disease survey conducted by the Saskatchewan Ministry of Agriculture. The ideal time to test for clubroot is after the fields are swathed, or if straight-cut, when the field is combined, and the galls on the roots of the canola plants are starting to release spores into the soil. Testing kits will be made available from the Saskatchewan Ministry of Agriculture regional offices, Plant Health Officers, select rural municipalities and SaskCanola. Private sector agrologists are being contacted and encouraged to work with farmers to ensure that the most at-risk fields are identified and tested so that the spread of the disease can be prevented. Because this survey is so important to Saskatchewan canola growers, SaskCanola will cover the cost of testing, a value of $100. Drop Clubroot soil sample bags off at your local Ministry of Agriculture regional office or Discovery Seed Labs before October 30, 2020. More information.
Manitoba. Manitoba Canola Growers are founding supporters of the Pest Surveillance Initiative and are offering free testing to MCGA members. Manitoba Canola Growers recognize the valuable role that agronomists play on farms across Manitoba, and agronomists are welcome and encouraged to submit tests on a farmer's behalf. Results will be shared back with both the agronomist and the farmer. The PSI Lab focused originally on the detection of low-level mapping of clubroot in Manitoba, but capabilities of the lab have expanded to include testing and mapping for glyphosate-resistant (GR) kochia and most recently testing for blackleg, blackleg race identification, verticillium longisporum and stripe. More information and step by step instructions on how to access free testing.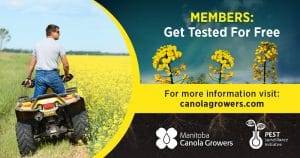 Alberta. Alberta Canola has the following postcard with tips to follow when soil sampling for clubroot. It helps avoid false negatives and positives, along with outlining the differences in tests you can request at the lab. If farmers are finding clubroot galls in fields seeded to clubroot-resistant cultivars (especially second generation), please contact a CCC agronomy specialist so these galls can be anonymously submitted to the university for pathotyping surveillance. NOTE: Soil samples can distinguish the presence and amount of P. brassicae resting spores whereas pathotyping requires the physical clubroot gall. Currently, only the U of A lab can pathotype galls, but many labs can detect/quantify spores in soil samples.