If weeds are present, then yes, you should spray. In some ways, dry conditions should do more to encourage early spraying because you don't want weeds taking up what moisture is there.
By waiting, you could also lose the spray window for the bigger and most yield-damaging weeds. Generally, weed control is most powerful when weeds are the size of a loonie – when they're particularly difficult to see from the window of a truck parked at the field edge.
If another flush of weeds comes along before the crop has a chance to canopy over, then a second in-crop application may be an option. However, weeds emerging after the canola has reached the six leaf stage rarely, if ever, results in yield losses.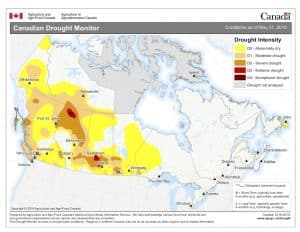 The bigger challenge these days is not the decision whether to spray, but finding good conditions to do the job. Days have been too cold, too hot, too dusty, too windy or too calm. Here are some articles with spraying tips for each of those scenarios.
Further reading:
Herbicide questions on tank mixing, ideal weather, spray patterns and more
Water quality and herbicides
Jar test for tank mixes
What is Delta T and why is it important for spraying?
Keep It Clean follow the label reminder