Frost stops the chlorophyll-clearing process in canola seed — usually permanently. High green counts are likely in fields that were not fully mature when hit by a heavy frost.
But if pods lower in the canopy were not hit hard by frost, seeds in these pods may continue to cure naturally and clear the green. Waiting will benefit these pods. Waiting may also cause seeds in severely damaged pods at the top of plants to shell out. This may reduce overall yield but could increase grade if seeds in top pods have a high green count. Scout closely to identify the extent of frost damage throughout the canopy.
Note that a killing frost may not be as killing as you think. It can happen that canola at -4°C for a few hours may not show signs of serious frost damage. Monitor these fields regularly to make sure shattering losses are not excessive. If no shattering, the extra time will benefit chlorophyll reduction.
Green that was not locked in by frost can still clear, at least to some degree, over time. Canola seed moisture needs to get back up to 20% with temperatures remaining at 15°C or warmer for chlorophyll-clearing enzymes to restart and produce significant curing. An inch of rain will not lift canola at 7-8% moisture anywhere close to 20%. Several days of heavy dew, high humidity and additional rain events may be required.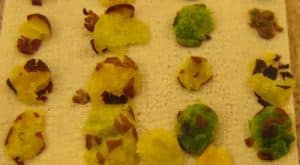 Storage risk:
Canola with high chlorophyll content is less stable in storage, even if the canola is dry and cool. The safest bet is to deliver sooner than later. If that is not an option, monitor it closely.
Green grading:
•No.1 canola may contain up to 2% distinctly green seeds and a maximum of 5% damaged seed (including green).
•The allowable limit for No.2 is 6% distinctly green and 12% total damaged seed.
•The allowable limit for No.3 is 20% distinctly green and 25% total damaged seed.
•Anything above that is sample.
The Canadian Grain Commission's Official Grain Grading Guide says damaged seed includes canola seeds that are: Distinctly shrunken or shriveled; badly discoloured from mould; completely and densely covered with rime (which is the lining of the pod adhered to the seed); excessively weathered, sprouted, tan coloured, distinctly green, heated, insect damaged or otherwise damaged.
Know your green count. For growers with high-green canola in the bin, it helps to know what you've got before you make marketing decisions. When shopping around for buyers, make sure your sample represents the canola you'll deliver. Loads have been rejected because the canola delivered didn't meet the specifications indicated in the original sample.
Get more than one opinion. 'Distinctly green' is a subjective analysis, requiring graders to decide whether marginal lime green seeds count as 'distinctly green' or not. This can make a big difference in price and marketability of canola if one grader counts 15% green (No.3) and another counts 25% (Sample) when analyzing the same canola. If you wish to dispute a grading determination, the Canadian Grain Commission has a process.
Harvest Sample Program. You may also want to send in a sample to the Canadian Grain Commission's Harvest Sample Program, which provides dockage, oil, protein and chlorophyll content for canola. This year, the CGC is particularly interested in canola harvested after the long snow/rain delay. When submitting a sample, please identify when the canola was harvested/binned so the CGC can identify whether it occurred after the snow.
Further reading: