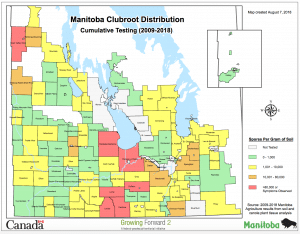 Manitoba Agriculture just updated its clubroot map to include survey results (to date) from 2018. Find out how to read the map. Manitoba Agriculture oilseed specialist Dane Froese provides the following comments on the map:
1. We are seeing increasingly tighter canola rotations. Canola acres in Manitoba are setting a record (two years in a row now) with 3,258,916 acres seeded this year, according to MASC data. More canola allows the disease to propagate and cause increasingly higher levels of infection.
2. Drier conditions have allowed crop to establish in previously unproductive low areas/potholes etc. What may have previously been attributed to drowned out or water-stressed spots in wetter years (2016 and prior) in canola is now raising suspicious with dry conditions. Sickly above-ground symptoms are causing producers to inspect and pull plants, and they're finding clubroot. Clubroot may have been the cause in other years but was written off due to other prevailing environmental conditions.
3. Farmers know the disease is spreading and have invested more time to scout crops or have professional agronomists monitoring their fields.
4. Very dry topsoil conditions in spring for the past two years coupled with windy weather caused soil movement. This may not be enough to cause visual symptoms initially, but may spread the disease in very low levels with the potential to cause future infection if proper rotations/resistant cultivars are not used in high-risk areas.