The 2016 Canola Performance Trial booklet and  website have been updated with field-scale results, in addition to small-plot data. The searchable database now includes six years of data on yield, height, lodging and days to maturity, covering a wide range of growing season conditions. Results can be viewed by searching all varieties, or as a comparison between specific varieties (displaying either all available data for each or a head-to-head comparison).
 
Use the regular 'Search all varieties' selection or the newer 'Compare varieties' selection, which can provide either full datasets on any 2 or 3 varieties (in the 'Show me all the data' option) or a head-to-head comparison of any two varieties that were tested at the same location (in the Head-to-head comparison' option). You can also scroll past the graph results to scan data from each location in the table below and further down to see the site locations on a map as well as the range of the short-, mid- and long-season zones.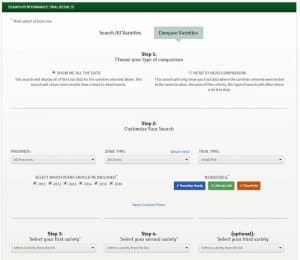 The Canola Performance Trials (CPT) represent the next generation in variety evaluation for Western Canadian canola growers. The three Prairie canola grower groups – Alberta Canola Producers Commission, Saskatchewan Canola Development Commission (SaskCanola) and the Manitoba Canola Growers Association – fund the program and the Canola Council of Canada delivers the program on their behalf. The Canola Performance Trial data is used in many ways, including providing the canola variety data for the Manitoba, Saskatchewan and Alberta seed guides.
Further reading:
Manitoba Seed Guide 2017 at seedmb.ca.