While the priority is on combining for many canola growers this November, please take time to check the storage situation for canola already harvested.
This time of year, we normally talk about cold outside air and warm canola and in-bin moisture cycles that can concentrate moisture. Oddly, outside air these days might actually be warmer than canola seed in the bin. Either way, these wider temperature differentials will increase moisture movement inside the bin and could elevate storage risk.
At a minimum, check and record the readings on bin cables. Look for any unusual increases in temperature.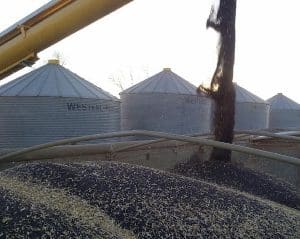 If no cables, you may want to transfer canola from bin to bin as a test. Removing one third of the canola out of a full bin disrupts the moisture cycle and helps to stop any heating or spoilage that may have begun. For big bins, moving one third of the volume could mean a number of truck loads. While unloading, feel the canola as it comes out of the bin. In the absence of adequate temperature sensors, this is probably the only effective way to determine if core temperatures are still high in large storage structures.
Probing through doors or roof hatches will likely be unreliable for finding hot spots near the core of the bin.