Harvest is a hectic time of year, but periods of waiting to get started can be tough too. While you're out checking to see how mature your canola is or what soil moisture conditions are like in your fields, be sure to pull up some plants and test our your diagnostic skills.
There has been above average precipitation in a number of regions this year and sclerotinia has been turning up in areas, but that doesn't mean similar symptoms couldn't be due to another disease. Be sure to go in and pull up some plants to properly check for blackleg and other diseases before you decide on the culprit.
Here are a few key tips for distinguishing the cause behind similar damage symptoms: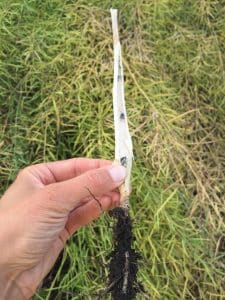 1) Sclerotinia and blackleg
Common symptoms: lodging, prematurely ripened plants or lesions on the stems.
Distinguishing characteristics: by pulling up a plant, cutting the stem at the base of the plant and checking the cross-section for black and brown infected tissue. Blackleg produces small black specks, called pycnidia, on stem cankers and within leaf lesions. Sclerotinia lesions will appear bleached and will not have any fungal fruiting structures, such as pycnidia, on the external lesions. However, at the end of the season sclerotia will produce much larger black bodies, called sclerotia which are often found within the infected stems or on the infected stem during conditions of high humidity. Canola stems with sclerotinia will also shred and shatter when they are twisted, while stems with blackleg will not. Keep in mind, plants may have more than one disease so identifying one doesn't eliminate all others.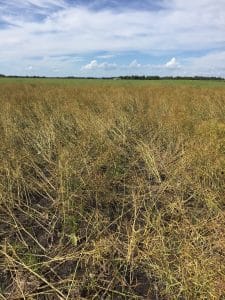 2) Blackleg and drowned out spots
Common symptoms: prematurely ripened spots in the field or lodging
Distinguishing characteristics: The plants in the drowned out spots won't look very healthy but they won't have black and brown infected tissue in the cross section of the base of the stem and won't have tiny black spots, called pycnidia, on the leaf and stem lesions, as plants with blackleg will.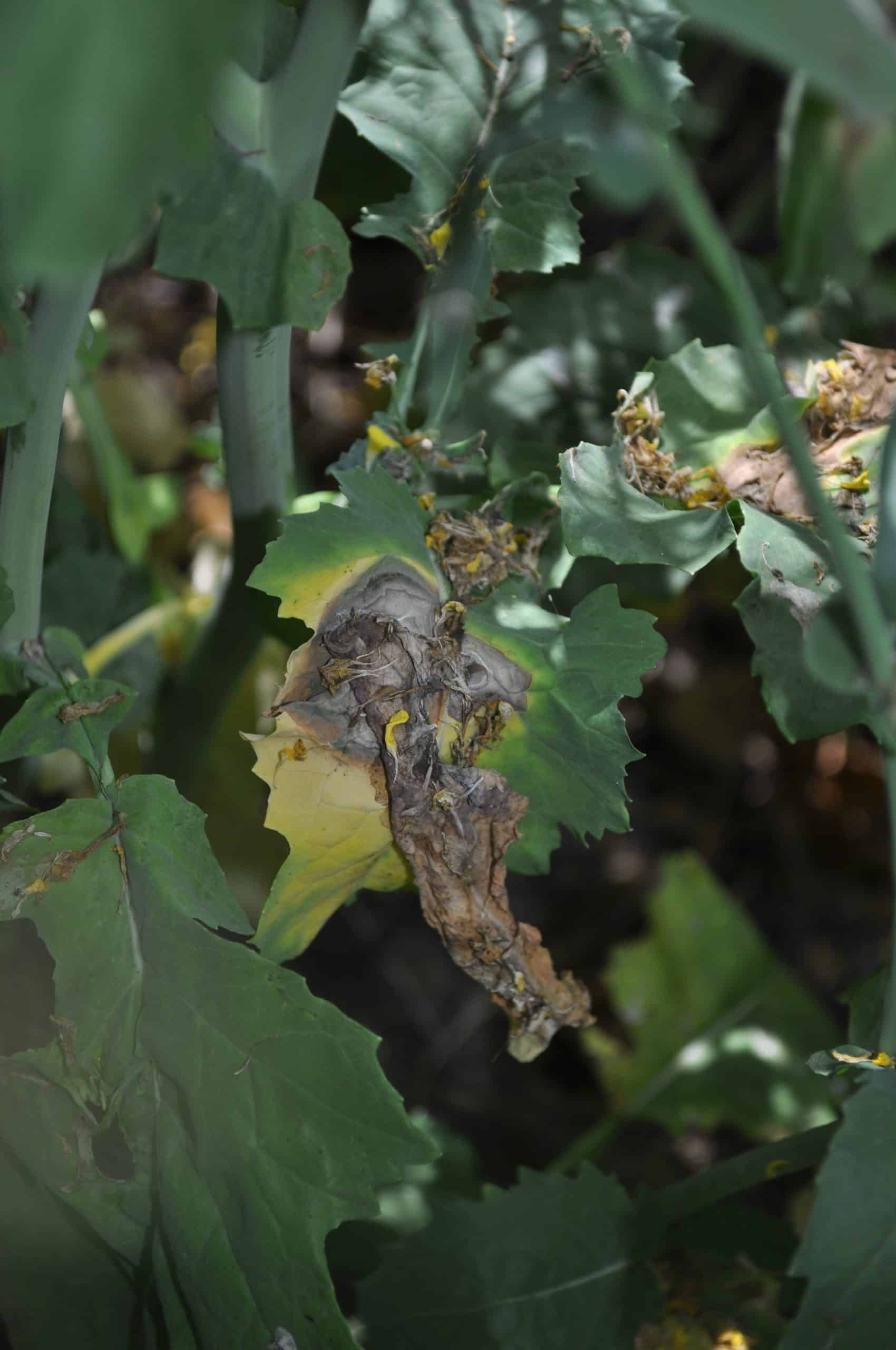 3) Sclerotinia and verticillium stripe
Common symptoms: the crop can have prematurely ripened spots and the stems will shred when they are twisted.
Distinguishing characteristics: when the stems of a plant with sclerotinia are twisted open they will reveal small (<2cm), hard, black cylindrical bodies called sclerotia. However twisting open a stem with verticillium stripe will have much tinier, black microsclerotia (that resemble black pepper). Another way to identify verticillium stripe is by the faint black striping on the stems and the peeling back of the epidermis.
4) Verticillium stripe and grey stem:
Common symptoms: prematurely ripened spots in a crop and greying on the stem
Distinguishing characteristics: the epidermis of the stem with verticillium stripe can peel back, unlike the stem of a plant with grey stem. With grey stem, grey and purple speckled patches will develop later on the stems. It is very hard to distinguish between these two diseases, so the help of one of the provincial laboratories can be very useful. To identify whether you have verticillium stripe or grey stem, you can send your plant samples to one of the provincial diagnostic labs listed below:
Manitoba
Crop Diagnostic Centre, Crops Knowledge Centre
Agricultural Services Complex
204 – 545 University Crescent
Winnipeg, Manitoba, R3T 5S6
(204) 945-7707
Saskatchewan
Crop Protection Laboratory
125 – 3085 Albert Street
Regina, Saskatchewan
S4N 6P6
(306) 787-8130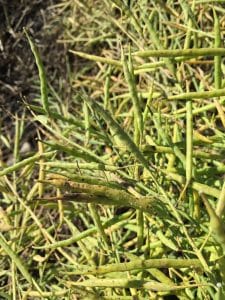 5) Sclerotinia and alternaria
Common symptoms: plants with alternaria black spot may ripen and shatter prematurely or leaf lesions may occur on infected plants
Distinguishing characteristics: Canola plants with alternaria can develop dark brown or black circular lesions on the stem and pods and become visible near maturity. Canola plants infected with sclerotinia will have bleached white lesions, often with zonate markings. Canola stems infected with sclerotinia will shred and shatter when they are twisted, revealing sclerotia bodies later in the season.
To read about how to identify major diseases in canola, check out:
https://www.canolawatch.org/2016/08/04/pre-harvest-disease-scouting-7-diseases/
For a quick reference guide when you are scouting in your field, use the canola disease scouting guide. Or watch this quick and informative video of the CCC agronomists reviewing how to scout before swathing for major canola diseases.