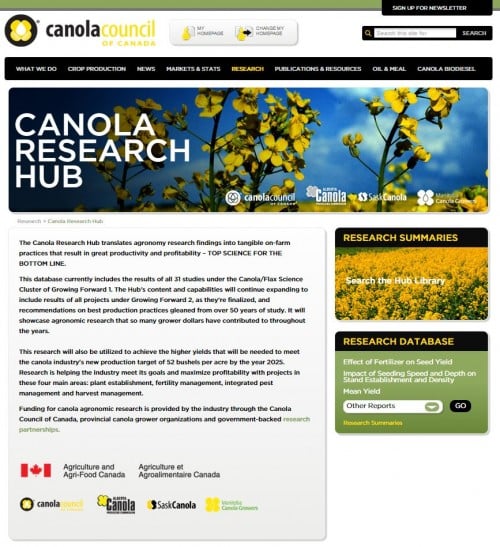 The Canola Council of Canada's new Canola Research Hub illustrates the science behind best management practices of Canadian canola production and provides practical tools to evaluate agronomic performance and make informed production management decisions.  
 
From the Hub landing page — canolaresearch.ca — users can navigate through a library of summaries, view and filter research data, watch video interviews and clips, access published resources, download multimedia materials, and keep up to date on science-based industry news and events.
 
The Canola Research Hub is a groundbreaking online technology transfer tool that brings canola growers' investment in research back to their farms to increase both productivity and profitability.
 
The Hub has been made possible by the canola industry's investment in agronomic research through the CCC and grower check-off dollars administered by their provincial organizations. It is supported by a $15 million Agriculture and Agri-Food Canada canola research cluster investment under Growing Forward 2 (GF2).
 
Completed studies, funded under Growing Forward, provide the strong foundation for this resource, with future database expansion to incorporate the findings from other agronomic research programs. These include the 16 studies currently in progress under GF2, Canola Agronomic Research Program (CARP) projects, and additional studies funded by each of the provincial grower groups.