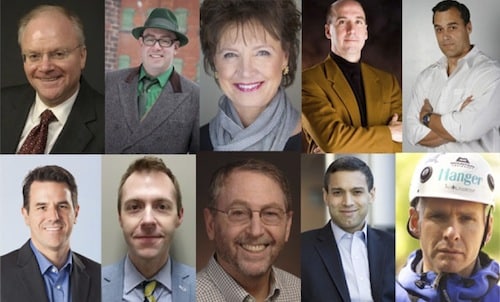 We have an incredible lineup of world-class speakers ready to talk about key topics in agriculture and business. You can read through their full bios on the convention website.

Drew Dudley: Overcoming silos and finding value in our connections

Dudley's Ted Talk on everyday leadership has earned 1.6 million views and he'll talk about how to identify shared values and why collaborative organizations are more innovative and efficient. 

Stephen Blank: Thinking about freight transportation in the next decade – a scenario-based approach
Blank has an MA and PhD from Harvard and is known for his work on North American integration – particularly cross border production-distribution systems and physical infrastructure.
Jack Uldrich: Future trends in agriculture
Uldrich is a global futurist and author and will explore the future of farming as it relates to big data and technological trends.
Diane Francis: Why Canada and the U.S. should become one country

Francis is editor-at-large for The Financial Post and a bestselling author and will lay out a pragmatic and fascinating plan for why the merger makes sense for both countries.
Dan Gardner: Getting risk right

Gardner is a journalist and bestselling author that will delve into cognitive and social psychology to explain where our perceptions of risk come from and why they so often don't match reality.
Vikram Mansharamani: The end of cheap food – a global forecast

Mansharamani is a Yale lecturer and bestselling author and will walk us through global trends around food and provide a framework for what to look for when news on these trends hit.
Paul Ferley: Global economics

Ferley is assistant chief economist at RBC and will present an overview of what's shaping economies worldwide.
Jeffrey Fitzpatrick-Stilwell: McDonald's and sustainability
Fitzpatrick-Stillwell is McDonald's Canada's senior manager of sustainability and will talk about the strategic direction the company is heading in regards to sustainability.
J.P. Gervais: Oilseed supply and demand

Gervais is chief ag economist for FCC and will walk us through the outlook for oilseed crops in a global context
Warren Macdonald: One step beyond – setting and reaching impossible goals

Macdonald is the first above-knee amputee to climb Mt. Kilimanjaro and will pull from his personal experiences when talking about overcoming difficult situations.