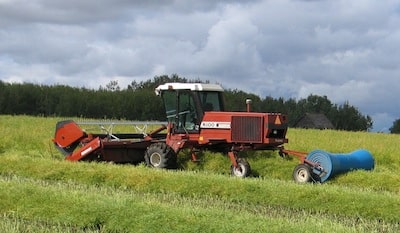 Swath timing: is close, close enough? If you have some variability in the staging of your stand due to hail damage, drowned out areas, dry areas, heat blasting, insect damage, disease or weed issues, it will make swath timing a more complicated decision.
Disease scouting: killing two tasks with one look. While you are out there checking to see if your crop is ready to cut/harvest is a perfect time to also check for disease! Likewise, the representative sampling technique used to accurately determine the stage of the crop is also ideal for disease scouting of your field. Pulling out a few plants and checking for the big three diseases, as well as any other issues, will save you an extra trip to the field. Early disease detection could save you thousands of dollars down the line!
Bin combining? Here are some points to consider. Whether you're waiting to get into the field or already cutting your crop, having a proper storage facility is critical. If you had last year's grain in your bins for longer than usual, and into the spring when grain temperatures were no longer cold enough over specific durations to kill most insects, you may want to confirm your storage locations are ready for this year's crop.
Lygus: the reign continues. You may be sick of reading about it, but that's better than being sick of finding it. Lygus bug continues to be a hot topic for growers in a number of locations across the prairies. While numbers are surprisingly high, they may still not be high enough to warrant the cost of spraying. Don't let the idea of revenge influence your spraying decision-making process.
Tweet of the week: