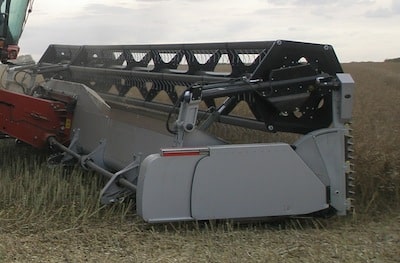 Specialty headers designed to straight combine canola seem to provide an improvement over standard straight cut headers. These specialty headers have the cutterbar out in front of the reel to catch seed that drops on impact from the reel bats.
Ontario Canola Growers Association ran a study in 2012 to compare shatter loss and yield differences between three straight cut headers. At a one-site-year field demonstration site, they compared a New Holland 35-foot CF740 flex header, a 40-foot Case IH draper header, and a modified 30-foot John Deere 930 header with the flex pan removed and replaced with a solid pan with an 18-inch table extension. The modified header also had a vertical side cutter on the right divider. Canola seed loss was 76% less with the modified header and 60% less with the draper header when compared with a regular flex header.
Wheatland Conservation Area at Swift Current, Saskatchewan has also compared headers for straight combining canola and found some evidence that specialty headers with the knife out front of the reel will reduce shatter losses, but concluded that more work is necessary in a wider range of Prairie conditions.
What is your experience with straight cut headers in canola? What do you think is the best? Carry on this conversation in Twitter, including @CanolaWatch and the hashtag #straightcutcanola in your message.